Low Earth Orbit satellite firm OneWeb has said it will cease operations from the Russian-operated Baikonur launchpad in response to Roscosmos demands to drop the UK government as a stakeholder.
OneWeb's launch partner Arianespace was due to launch 36 satellites owned by OneWeb this week via a Soyuz rocket from a launchpad in Baikonur, Kazakhstan.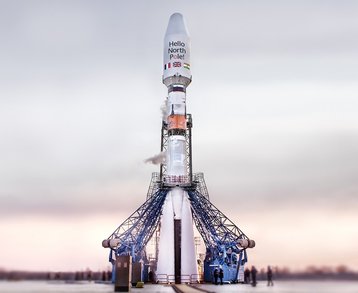 However, after previously announcing that it's temporarily halting Soyuz rocket launches in French Guiana due to sanctions imposed on the country, Russian space agency Roscosmos this week demanded the UK government divest its stake in OneWeb.
"Due to the UK's hostile stance towards Russia, another condition for the launch of OneWeb spacecraft on March 5 is the withdrawal of the British government from the shareholders of OneWeb," the agency tweeted.
In response, the satellite firm is no longer launching its satellites from the facility. A spokesperson from OneWeb said: "The Board of OneWeb has voted to suspend all launches from Baikonur."
SpaceNews reports that the satellite firm has ordered staff to leave Russia's Baikonur Cosmodrome. Chris McLaughlin, OneWeb's chief of government, regulatory affairs, and engagement, told the publication it decided to leave the Russian-controlled launch site after Roscosmos issued an ultimatum on the mission.
"There's no negotiation on OneWeb: the UK Government is not selling its share," U.K Business Secretary Kwasi Kwarteng said. Bristol's Labour MP Darren Jones had already asked UK business department BEIS about the company's operations and payments to Russian-linked firms, and if BEIS planned to intervene in the wake of the country's invasion of Ukraine.
Dmitry Rogozin, Director General of Roscosmos, posted a video on Twitter purportedly showing OneWeb's livery being removed from the Soyuz rocket. "The launchers at Baikonur decided that without the flags of some countries, our rocket would look more beautiful," he said. It is not clear what will happen to those satellites.
The UK Government took a $500 million stake in OneWeb during its 2020 bankruptcy. Commercial services for OneWeb were due to begin this year, and still has more than 200 satellites still to launch for its planned fleet of 648 machines - all of which were planned to launch from Roscosmos sites. How this withdrawal will affect launch schedules is currently unclear.
OneWeb signed a non-binding letter of intent last year with NewSpace India (NSIL) to supply its launch vehicles for "OneWeb's satellites in India from 2022."
OneWeb told SpaceNews the company is seeking alternatives: "We're looking at US, Japanese and Indian options," said McLaughlin. "But in the first instance, we're pointing to Ariane and saying you still owe us a number of launches."
Manufacturing schedules are likely to be impacted too; SpaceWeb notes that although OneWeb builds its satellites in Florida under a joint venture with Airbus, it uses spacecraft thrusters imported from Fakel, a Russian propulsion company.
According to Russian news agency TASS, Rogozin said the OneWeb contract had been paid in full and the funds would not be returned.
"We received all the money for it for the manufacture of launch vehicles, upper-stages and for the necessary launch services.
"This money, due to force majeure circumstances that have arisen as a result of the aggressive policy of the West and the sanctions that are applied against Russia, this money will remain in Russia," he said.
The LEO satellite firm has signed distribution deals with Airbus, Hughes, Peraton, AT&T, BT, SoftBank, Rock Networks, MOL, Alaska Communications, Galaxy Broadband, Pacific Dataport, Neom, Vocus, Field Solutions Holdings (FSG), HCIPL, Marlink, Clarus Networks, Eclipse, and Tampnet.
This week saw the firm sign a memorandum of understanding with Telstra for the Australian telco to use the satellite company's machines to improve coverage across Australia and the Asia Pacific region.