SoftBank has partnered with Japanese shipping giant Mitsui O.S.K. Lines (MOL) and ship developer e5 Inc. to provide satellite connectivity at sea via OneWeb's satellites.
The three companies have signed a memorandum of understanding (MoU) to provide maritime broadband communications on vessels at sea using OneWeb's Low Earth Orbit (LEO) broadband satellites.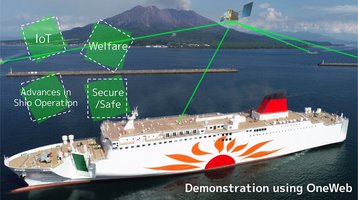 The Japanese firms said they will promote the "introduction of maritime broadband communications" and the "secure, safe and efficient digitalization of the maritime industry" using OneWeb's satellite communication service at sea.
Initiatives included in the MoU include a study of potential marine transport digitization use cases enabled by satellite broadband at sea; along with demonstrations of OneWeb's satellite antennas installed on "Sunflower" ferries operated by a MOL subsidiary.
The e5 Project seeks to develop autonomous electric ships for commercial use. It is developing tankers and tugs that use electric and hyrdrogen batteries and can be recharged via renewable power such as solar.
SoftBank previously partnered with e5 in 2019 to study marine broadband services using satellites – including using IoT devices on ships for remote monitoring via OneWeb satellites. The two companies conducted a successful test in 2020.
OneWeb is solely targeting the wholesale market and has previously signed deals with Hughes and Peraton. AT&T, SoftBank, BT, Rock Networks, Alaska Communications, Galaxy Broadband, and Pacific Dataport. OneWeb executive chair Sunil Bharti Mittal has said that OneWeb is holding "dozens of conversations in very advanced stages" with other telecom partners, and will partner with his telco company Airtel to cover India, Southeast Asia, and countries in sub-Saharan Africa.
While it claims to have sold more than 100,000 consumer terminals, on the wholesale side rival LEO satellite firm Starlink has so far only signed a backhaul deal with Japanese telco KDDI.
SoftBank has invested in a number of 'non-terrestrial' connectivity technologies. As well as investing in OneWeb, the company previously invested in Google's Project Loon before acquiring a number of patents from the project after it was closed. The telco also has its own High Altitude Pseudo-Satellite (HAPS) subsidiary called HAPSMobile, and has also invested in an aerostat (tethered blimp) company.
In June, the company launched what it called a non-terrestrial network (NTN) service to provide connectivity solutions from above through a combination of HAPS, OneWeb's LEO satellite constellation, and Geosynchronous Earth Orbit (GEO) satellites providing NB IoT (narrowband Internet of things) services via Skylo.