Satellite operator Viasat is potentially suffering a cyberattack targeting its operations in Eastern Europe. At the same time, Russia's Roscosmos space agency said it plans to restrict access to its Soyuz rockets, potentially impacting the planned launch of 36 OneWeb satellites later this week.
Sky News reports that Viasat is probing a suspected cyberattack that has disrupted residential broadband services in Eastern European countries including Ukraine.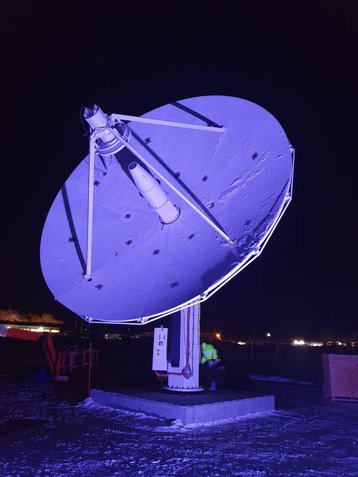 Viasat has reportedly appointed cybersecurity experts to investigate the causes of a service outage across its KA-SAT network in recent days. Sky reports that preliminary indications were that the outage was the result of a distributed denial of service (DDoS) attack.
PaxEx.Aero reports at least three ISPs have reported issues connecting to Viasat satellites – including Intv.cz and EUSANET – but suggests as many as six are affected.
In a statement, Viasat said it was "experiencing a partial network outage-impacting internet service for fixed broadband customers in Ukraine and elsewhere on our European KA-SAT network."
"Our investigation into the outage continues, but so far we believe it was caused by a cyber event. We are investigating and analyzing our European network and systems to identify the root cause and are taking additional network precautions to prevent further impacts while we attempt to recover service to affected customers."
"Law enforcement and government partners have been notified and are assisting in the ongoing investigation, along with a third-party cybersecurity firm."
Viasat added that it had "no indication that customer data is involved."
This week saw SpaceX CEO Elon Musk say that he had activated its Starlink satellite broadband services in Ukraine after First Vice Prime Minister and Minister of Digital Transformation Mykhailo Fedorov called for help from the billionaire.
While SpaceX can launch its own satellites into orbit, the political fallout from Russia's ongoing invasion of Ukraine could affect other satellite operators. Russian space agency Roscosmos has announced that it's temporarily halting Soyuz rocket launches in French Guiana due to sanctions imposed on the country.
Arianespace was due to launch two Galileo satellites into orbit using a Soyuz rocket from the Kourou launch site in April. The company is also due to launch 36 satellites owned by OneWeb this week via a Soyuz rocket from a launchpad in Baikonur, Kazakhstan. OneWeb has refused to comment to Capacity on the status of the launch.