Russia's state-owned space corporation Roscosmos said that it will not launch OneWeb satellites into space unless it complies with its demands.
Roscosmos said that the 36 satellites would not launch unless the company guaranteed that the satellites would not be used for military purposes, and that the British government divests its stake in the company - demands that are virtually impossible in the short term, and unlikely in the long term.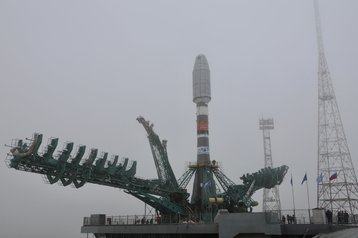 The demand comes after the Soyuz-2.1b rocket carrying the satellites rolled out to the pad at the Russian-controlled Baikonur Cosmodrome in Kazakhstan.
Now, the rocket will be removed from the pad unless OneWeb meets its demands by 1:30 pm Eastern Standard Time March 4. The satellites remain in Russian hands.
Britain's secretary of state for business, energy, and industry strategy, Kwasi Kwarteng tweeted: "There's no negotiation on OneWeb: the UK Government is not selling its share. We are in touch with other shareholders to discuss next steps..."
Roscosmos head Dmitry Rogozin tweeted back: "OK. I'll give you two days to think."
Members of the UK Parliament had already called on the launch to be aborted, given Russia's invasion of Ukraine and the UK's sanctions.
Darren Jones, chair of the Business, Energy and Industrial Strategy Committee in Parliament, asked if the launch was "inappropriate given the current situation."
Jones previously criticized the government's decision to invest $500 million after it declared bankruptcy in 2020.
The money, along with an investment by Indian conglomerate Bharti Global, has been used to fund an ambitious mega-constellation of satellites to bring Internet connectivity to the world, in partnership with local providers.
The LEO satellite firm has signed distribution deals with Airbus, Hughes and Peraton, AT&T, BT, SoftBank, Rock Networks, MOL, Alaska Communications, Galaxy Broadband, Pacific Dataport, Neom, and Tampnet.
With launch provider Arianespace, OneWeb has so far launched 428 satellites out of a planned 648. Each batch has been sent up on a Soyuz rocket, either from French Guiana or Kazakhstan.
The company has already paid for all the remaining launches - which are now on hold. It was already behind schedule due to semiconductor shortages.
OneWeb has also traditionally rented an An-124 aircraft to move its satellites. The biggest cargo plane in the world, the aircraft is maintained by Ukrainian company Antonov.
55 were built between 1982 and 2014, in a collaboration between Ukrainian and Russian manufacturers. Only 26 remained in civilian use by 2019, but servicing and parts have mainly been carried out at the Antonov Airport.
That airport came under assault last week.
Earlier this week, Viasat services went down in Eastern Europe due to a cyberattack.