The UK government is set to own a "significant equity share" in satellite company OneWeb, after bidding $500m (£402m) in bankruptcy court as part of a consortium.
The sale has still to be approved by the judge next week, and may face scrutiny from US regulatory authorities.
But why?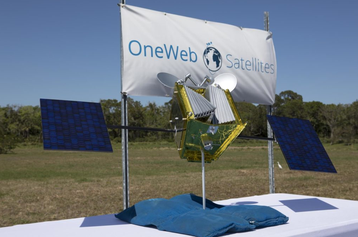 Previous reports put the UK's stake at 20 percent, but it is now thought to be 45 percent. It is joined in the consortium by India's Bharti Global, which will also invest $500 million and provide commercial and operational leadership - also for 45 percent. Through its subsidiary Bharti Airtel, the company is the third-largest mobile operator in the world, with over 425 million customers.
10 percent of the company will remain in the hands of existing investors. Further fund raising for the company, which has nearly a billion in debt, could happen, reducing the UK's stake.
UK Business Secretary Alok Sharma said that the "deal presents the opportunity to further develop our strong advanced manufacturing base right here in the UK."
Despite being headquartered in the UK, the company's satellite factories are currently in Florida, US. It is not clear if OneWeb will move its manufacturing to the UK.
Both the British government and Bharti made reference to OneWeb's plans to provide Internet connectivity to much of the world via its planned 650 satellite fleet (currently just 74).
"OneWeb's platform will help to reduce the 'digital divide' by providing high speed, low latency broadband access to the poor and hard-to-reach rural areas," Bharti chairman Sunil Mittal said, with his company promising to act as an anchor customer in parts of South Asia and Sub-Saharan Africa.
This plan puts it in competition with well-funded and technologically-advanced rivals, including Elon Musk's SpaceX, which plans the Starlink project, and Jeff Bezos' Amazon, which has Project Kuiper. These rivals are thought to be among the reasons OneWeb's previous backer SoftBank dropped plans to invest $2bn in the company, leading to its bankruptcy in March.
But there may be another reason for the UK government's involvement. As we reported earlier this week, the country may be looking to turn OneWeb into its own GPS competitor.
After spending £1.2bn ($1.47bn) helping develop the European Union's alternative, Galileo, it was locked out of the project when it voted to leave the supranational body. It then spent £90m ($111m) trying to work out how much it would cost to build a new GPS-like system from the ground up, but stopped when it realized the cost would be £5bn ($6.3bn).
In OneWeb, it hopes to have found a solution, multiple publications reported this week. There's just one potential problem: The satellites.
While GPS, Galileo, along with Russia's Glonass and China's BeiDou, all operate in medium Earth orbit at around 20,000km, OneWeb operates in low Earth orbit, at 1,200km.
It is not clear if developing a global positioning system is possible with the bankrupt company's satellites.
"This deal underlines the scale of Britain's ambitions on the global stage," Sharma said.
The UK government will have a final say over any future sale of the company, and over future access to OneWeb technology by other countries on national security grounds.
"We are eager to conclude the process and get back to launching our satellites as soon as possible," Adrian Steckel, CEO of OneWeb, said.