Hugging rugged moorland on the Lizard peninsula in the far West of Cornwall, the Goonhilly Satellite Earth Station has its eyes on the future, its feet on the ground, and roots which dig through the past into myth and history.
The history hits us first. Giant dishes dominate the horizon as we drive five miles through rain from the village of Mullion. Inside the security gates, we park and run for the shelter of the low buildings which huddle in the shadow of colossal antennas which brought Britain into the age of space communications, nearly 60 years ago.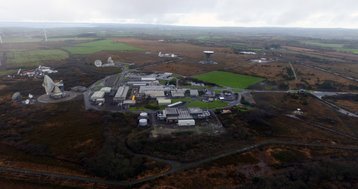 The Goonhilly legend
Goonhilly started in 1962, with a 26m (85ft) dish built to communicate with the new Telstar satellite. The entire 1,100-tonne structure can rotate through 360 degrees in three minutes and be positioned to within 1/100 of a degree. Marine engineers from nearby Falmouth docks helped to build the antenna. The world knows this colossal structure as Arthur, a mythical reference which continued with a larger (32m) dish a short distance away,known as Merlin,
Goonhilly staff don't talk about Arthur and Merlin. They are engineers and know these antennas as Goonhilly 1 (GHY-1) and Goonhilly 3 (GHY-3)..
This was once the largest satellite earth station in the world, and a jewel in the crown of international operator BT. From the 1960s to the 1980s, Arthur and Merlin were joined by another 60 antennas, as Goonhilly brought news from the world, of Moon landings and Olympics.
But ten years ago it was dismissed as a historical relic, made obsolete by submarine fiber cables and improvements in satellites. Geostationary satellites and low earth orbit satellites don't need giant equipment anymore.
In 2008 the earth station closed. A trickle of tourists came to gaze in awe at Arthur and Merlin. Then in 2010 the visitor center closed - and that should have been that.
But in 2011, Goonhilly began to stir. A new business: Goonhilly Earth Station Ltd, took over the site, and began installing new technology which builds on the old infrastructure and stakes a claim on an emerging market for space communications technology. In 2018, it got a £24 million ($31m) investment from financial services tycoon Peter Hargreaves.
This feature appeared in the January issue of DCD Magazine. Subscribe for free today.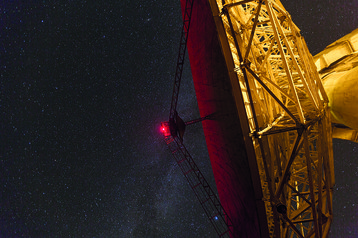 Talking to satellites
The new Goonhilly is based on a resurgence of interest in space, and on the vision of its CEO, satellite engineer and entrepreneur Ian Jones, who leads the new body. "I was running a small business, and I was fed up with feast and famine - building technically advanced projects for customers, and then having to find the next customer," says Jones. "I wanted something with a broader scope, that had a range of revenue, in terms of breadth and value."
Goonhilly is certainly addressing a diverse set of opportunities - alongside its space projects, it includes a surprising spin-off: a pitch to apply astronomical thinking to everyday AI processing problems, in a specialized data center on the site.
Around 20 percent of Goonhilly's business is in its home territory, communicating with "near space" objects orbiting the earth. The most high-profile of these is the International Space Station (ISS) which has its own dedicated dish at Goonhilly. The most lucrative will be low earth orbit satellites for observation.
"We've got monthly revenue coming in from some of our antennas," says Jones. "Some people rent an entire antenna, and the associated processing for a long term contract."
In this part of the business, it's got a surprising competitor, as Amazon Web Services (AWS) has launchedGround Station-as-a-Service, a plan to add satellite services to its cloud data centers. Jones has no illusions about the size of this rival, but believes that Goonhilly has advantages in its home turf.
A similar chunk of Goonhilly's business is consultancy: handling the kind of projects which Jones dealt with in his previous company, Orbit Research, developing systems for satellite communications.
"We can't recruit people fast enough," he says. "There's a huge amount of work in how you apply signal processing."
Related to this, Goonhilly also plans to manufacture signal processing equipment for satellite ground stations, using more of the site's legacy, and a skills network which could turn this into a solid revenue stream.
Our tour of the site takes in fabulous laboratories where microwave equipment was designed and built by hand. We also see a product under development: a mobile satellite ground station, complete with dish, power supply and signal processing, which packs inside a rugged shipping container to be deployed anywhere in the world.
Another 20 percent of the site's business is a completely new venture, already off to a good start: "deep space" communications. There's an increasing number of projects sending probes outside earth orbit, to the moon and beyond. Goonhilly plans to be the first private enterprise offering communications to these efforts.
"There aren't any commercial providers of deep space services at the moment," Jones tells us. "This is something that's only been tackled by space agencies. Projects from private enterprise, or from countries other than the US, Europe and China, have to buy communications capability from NASA or the ESA."
It has started with upgrades to two dishes. An £8.4m ($10.8m) project is turning the 32m GHY-6 into a deep space communicator. Meanwhile, GHY-3 (aka Merlin) has a new super-cooled receiver for radio-astronomy, sensitive enough to pick up signals from remote stars. And new research has found a way to adapt this detector for two way communications, so one of the site's older dishes can join the newest space projects.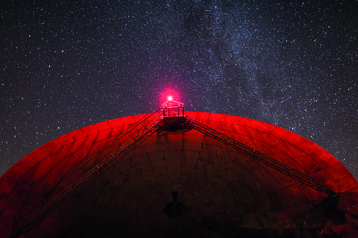 A space for data
The final section of the Goonhilly plan is a departure, into digital infrastructure. Jones expects data centers and digital infrastructure to deliver another 20 percent of the organization's business. In the summer of 2019, Goonhilly opened two data halls which have 2MW of power available, which can be extended to 5MW.
There's currently an Nvidia DGX-1 supercomputer on site, and Jones plans to fill those halls with AI and machine learning loads, with the help of his head of data centers and cloud, Chris Roberts. There's an enclosed modular aisle of racks in one of the halls, fitted by HPE.
One might think Goonhilly's location is too remote for this job, but it has excellent network connections, some inherited from its BT days, and others installed under the new regime. Goonhilly has a direct termination on the SEA ME WE 3 cable, which connects from South East Asia and the Middle East, and lands in Cornwall. "It's only 180ms to India," says Jones. Goonhilly is also on Janet, the UK's Joint Academic Network.
The site infrastructure is solid. The data halls are in sturdy structures originally built for satellite support services, and a network operations center (NOC) has been built with a full view of the site. There's a comms room that used to be the main egress and ingress point for the UK, which had 200 cabinets labeled by country. Now it has been stripped back, and is becoming a meet-me room.
Goonhilly Earth Station has inherited an 11kV ring round the site, which was designed to support the heavy motors and signal systems, but is just as good for digital equipment. There are four 1MW diesels along with batteries for backup: BT would not have allowed the signal to be lost during a major event carried by satellite.
The site is right next to major wind power resources, along with a planned solar farm. Roberts also has an immersion cooled SmartPod cabinet from Submer. It's currently a demonstration system, with GPUs and AMD CPUs provided through French HPC specialist 2CRSI, but Roberts hopes to open a "fully green" supercomputer, powered directly by energy from a modular solar farm, where each solar panel is backed by batteries.
Meanwhile, the first real customers for the Goonhilly data centers are in the space field. A team from Hertfordshire University is taking algorithms developed by radioastronomers to detect distant galaxies obscured by background noise, and using Goonhilly's Nvidia supercomputer to repurpose them. Now they can take images from earth observation satellites, and spot features which were previously obscured by clouds.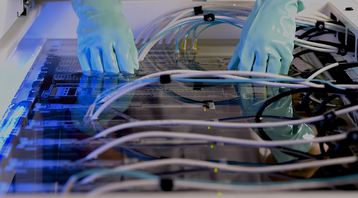 Astronomers know AI
Jones foresees a market for satellite operators needing AI services to extract useful data from the vast quantities which will come down from the sky.
Different operators will be looking for different things within that data, perhaps following shoals of fish for conservation, or tracking weather to optimize agriculture. They will use AI systems to find what they are looking for, and Goonhilly will offer them a double benefit.
Firstly, they can process the data right there, and avoid network charges incurred by sending huge quantities of data to a colocation space in London or another hub. "Projects are starting to create data lakes that exceed those of Google and Facebook," says Jones. "The Square Kilometre Array is looking at an exabyte of data per year. LEO constellations can produce tens of megabits per second."
And secondly, Goonhilly has access to expertise in finding the needle in those data haystacks. "We understand the maths used by satellite communications engineers and radio astronomers - and that maths happens to be the same as that for machine learning," says Jones. "There's a completely different set of jargon used to describe it, but once you've done the translation, you can see they're the same thing, and that is actually very powerful."
Beyond these space applications, Goonhilly sees wider applications: "There's a convergence between the satellite world and the data center world." says Roberts.
Vast numbers of AI problems are about finding data in a noisy signal, using matched filtering, says Jones: "You can apply techniques from communications engineering and from computer science to get that signal back. And that's the sort of thing radio astronomers can do. And because of the unique connectivity we have to the astronomy world, we have the ability to pull that data in and build a data service around it."
The training and model development stages of AI involve running a model for months at a time, to derive rules which can be applied in the field. Jones and Roberts believe that even applications like autonomous vehicles, with no link to space, will eventually come to Goonhilly: "We believe that, regardless of whether it's satellite or not, we can run that training model at Goonhilly, and it will be more cost-effective than running it on Amazon and GCP," says Roberts.
Not all the expertise is at Goonhilly itself: there's a second office in Farnborough, conveniently close to Surrey Satellite Technology, a Surrey University spin-off which is a regular partner for Goonhilly..
But Jones says there's no difficulty getting skilled people to work at Goonhilly itself: There's a move to create a space port at nearby Newquay airport (which has regular flights to London). It's hosted a conference on deep space communications, and earlier in 2019, 3,500 people came to Goonhilly for a spectacular science and arts festival on the anniversary of the Apollo landing.
"The fact that Goonhilly is in the depths of Cornwall is part of what's allowed it to survive," says Jones. "If Goonhilly was in the Southeast, it would have just been sold off and subsumed into the city."