Amazon Web Services has formed a dedicated business segment focused on 'Aerospace and Satellite Solutions.'
The company's off-world ambitions have expanded in recent years, with a Ground Station division, and Project Kuiper - a plan to place thousands of Internet-providing satellites in orbit. CEO Jeff Bezos also separately owns his own rocket company, Blue Origins.
AWS ASS?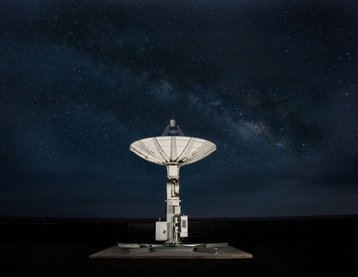 The Aerospace and Satellite Solutions business segment plans to "reimagine space system architectures, transform space enterprises, launch new services that process space data on Earth and in orbit, provide secure, flexible, scalable, and cost-efficient cloud solutions to support government missions and companies advancing space around the world," in collaboration with its customers.
ASS will be led by retired Air Force Major General Clint Crosier, who previously headed the planning group that set up the much-maligned US Space Force.
"We find ourselves in the most exciting time in space since the Apollo missions," Crosier said. "I have watched AWS transform the IT industry over the last 10 years and be instrumental in so many space milestones. I am honored to join AWS to continue to transform the industry and propel the space enterprise forward."
The company has aggressively expanded its government and defense contracting business, first with a major CIA win, followed by numerous smaller contracts, and plans to build a giant campus in the heart of the military-industrial complex, Arlington, Virginia.
It is also still trying to win the DoD's JEDI contract.
NASA's Jet Propulsion Lab already uses AWS Ground Station, while the wider ASS business will boast companies like defense giant Lockheed Martin, space technology company Maxar Technologies, and geospatial intelligence firm Geollect.
This week AWS also announced that Capella Space would run fully on the AWS cloud, and connect to its satellites using Ground Station. The company plans to build the world's largest synthetic aperture radar network, which can create three-dimensional reconstructions of the ground and 'see-through' cloud cover, or at night.
Capella claims it can collect millimeter-scale resolution imagery 24/7 in all weather conditions. "The ability to use satellite imagery to see virtually anywhere in the world in high resolution and to do so quickly and in rapid succession has never really existed before. Now, you can request satellite imagery easier than ever before and near-real-time," Payam Banazadeh, CEO and Founder of Capella Space, said.