Low Earth Orbit (LEO) satellite firm OneWeb has announced new partnerships with Neom and Tampnet.
The deal with Tampnet will see OneWeb trial offshore communications, while the deal with Neom will see the company provide connectivity to the new smart city and surrounding regions.
The news comes as incumbent satellite firms Intelsat and Eutelsat both announce their respective CEOs are to step down.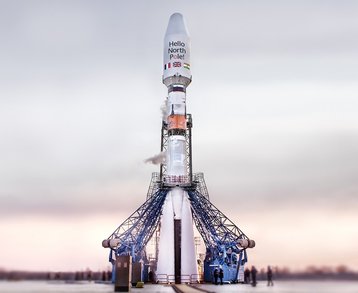 Norway's Tampnet provides offshore communications services, and has signed a Memorandum of Understanding (MoU) with the satellite firm to use its broadband satellite services to energy, maritime, and oil & gas customers.
"Connectivity services have a major role to play in de-risking offshore operations, and improving efficiencies that lead to cost savings and a more positive environmental impact," said Carole Plessy, OneWeb Head of Maritime. "Working with Tampnet as a distribution and trial partner will enable us to accelerate bringing a new generation of much-needed connectivity to the offshore market."
Tampnet will collaborate with OneWeb on a series of trials to test and evaluate network capabilities in the offshore energy environment. The trials will initially focus on delivering services to offshore wind farms, rigs and platforms in the North Sea from Q1/2022 and in the Gulf of Mexico later in 2022.
"LEO services as a technology complements the Tampnet business model, particularly in terms of faster geographic expansion, LTE backhaul, and useable backup solutions for existing clients," said Trygve Hagevik, Tampnet CCO. "Partnering with a pioneer such as OneWeb, reflects our ambitions towards responding to our customers' requests and supporting the transformational impact that the LEO technology can make towards increasing our footprint and our customers' operational performance."
Meanwhile, in Saudi Arabia, OneWeb has signed a $200 million (SAR 750m) joint venture agreement with Neom to bring high-speed satellite connectivity to the country's new Neom city, Saudi Arabia, and the wider Middle East and neighboring East African countries.
Neom is a project aiming to construct a huge new smart city on the Red Sea coast in the northwestern Saudi province of Tabuk.
Neom Tech & Digital Hold Co. and the new JV entity will have exclusive rights to distribute OneWeb services in its target regions for seven years from the initiation of the LEO satellite network, which is expected to commence in 2023.
Khalid Al Falih, Minister of Investment, Saudi Arabia, said: "It is a great pleasure to witness the signing of the joint venture between Neom and OneWeb, which is a testament to Saudi Arabia's promising future in the space technology sectors. Today's agreement will contribute to economic growth and accelerate digital and communications knowledge transfer to the Kingdom through the transformative Neom vision."
The Neom company leading the project is wholly owned by the Public Investment Fund, the sovereign wealth fund, and construction on the new city is due to begin this year. Crown prince Mohammed bin Salman told Bloomberg in October 2018 that Neom will be completed in 2025, but questions remain as to the state of the controversial project. This week Neom announced Oracle would be hosting a new cloud region out of a Neom-based data center.
OneWeb CEO Neil Masterson added: By working with Neom Tech & Digital Hold Co., OneWeb will support the ambitions of Neom, connecting businesses and communities and supporting the resilience of connectivity systems across the wider region."
OneWeb is solely targeting the wholesale market and has previously signed deals with Hughes and Peraton. AT&T, SoftBank, BT, Rock Networks, MOL, Alaska Communications, Galaxy Broadband, and Pacific Dataport. OneWeb executive chair Sunil Bharti Mittal has said that OneWeb is holding "dozens of conversations in very advanced stages" with other telecom partners, and will partner with his telco company Airtel to cover India, Southeast Asia, and countries in sub-Saharan Africa.
While it claims to have sold more than 100,000 consumer terminals, on the wholesale side rival LEO satellite firm Starlink has so far only signed a backhaul deal with Japanese telco KDDI. This week Verizon announced it would be partnering with Amazon to use its Kuiper satellite network for backhaul services.
At a time when startup LEO satellite firms are expanding, incumbent satellite operators are in flux with both Intelsat and Eutelsat both on the hunt for new CEOs. Intelsat's Stephen Spengler last week announced plans to retire as the company comes close to completing a restructuring, while Eutelsat CEO Rodolphe Belmer on the same day announced his intention to step down and take over Atos. The French company – which has invested more than $700 million in OneWeb – last month rejected a $3.2 billion takeover bid from billionaire telecoms investor Patrick Drahi.