Telecoms company Verizon wants to use Amazon's satellites to help expand rural broadband access in the United States and around the world.
Amazon has yet to launch any satellites as part of its planned 3,236 system-strong Project Kuiper constellation. However, as a condition of its FCC authorization, Amazon is required to deploy at least 1,600 satellites by 2026.
The company, which is also the world's largest cloud provider, has promised to invest at least $10 billion in Kuiper.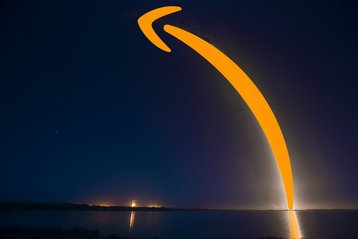 As part of the early partnership, Project Kuiper and Verizon have begun to develop technical specifications and define preliminary commercial models for a range of connectivity services for US consumers and global enterprise customers operating in rural and remote locations around the world, the companies said.
At the start, Amazon and Verizon will use the satellites as cellular backhaul, as a cheaper alternative to running fibers to every Verizon cell tower. Those cell towers would then connect to consumers.
The satellites could also provide direct connectivity to consumers, but users would require special hardware, and this is something Amazon plans to do on its own, without requiring an intermediary. Consumers looking to connect directly to Kuiper will be required to get a personal dish antenna. Rival Starlink, backed by SpaceX, also requires an expensive dish.
"Project Kuiper offers flexibility and unique capabilities for a LEO satellite system, and we're excited about the prospect of adding a complementary connectivity layer to our existing partnership with Amazon," Verizon chairman and CEO Hans Vestberg said.
"We know the future will be built on our leading 5G network, designed for mobility, fixed wireless access and real-time cloud compute. More importantly, we believe that the power of this technology must be accessible for all."
The company expects to combine Kuiper connectivity with Verizon's wireless, private networking, and Edge compute solutions, targeting industries like agriculture, energy, manufacturing, and transportation in the years to come.
"There are billions of people without reliable broadband access, and no single company will close the digital divide on its own," Amazon CEO Andy Jassy said.
Indeed, other companies are also looking to use space to connect the world. Starlink already has around 100,000 users the world over (with mixed reviews) taking advantage of its 1,700 satellites currently in orbit. The Elon Musk business hopes to grow that to 12,000.
UK-government backed OneWeb, meanwhile, operates 358 satellites out of 648, and has partnered with telcos including AT&T in the US.