Low Earth Orbit (LEO) satellite broadband firm OneWeb has signed a new distribution deal in India with the Hughes/Bharti Airtel joint venture, Hughes Communications India Private Ltd. (HCIPL).
Hughes and Airtel first announced plans for a joint venture to combine the Very Small Aperture Terminal (VSAT) businesses of both companies in 2019; HCIPL announced the official formation of a joint venture to provide satellite broadband services in India earlier this month. Majority-owned by Hughes, the company is reportedly India's biggest satellite service operator with more than 200,000 VSATs in the country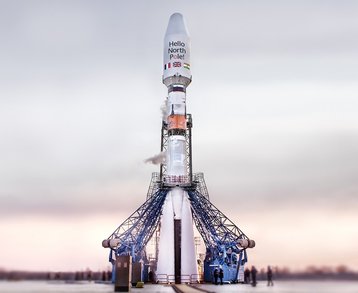 OneWeb said HCIPL is "well positioned" to deliver services to enterprise and government with OneWeb capacity, especially in areas outside the reach of fiber connectivity; the company's satellites will connect towns, villages, and local and regional municipalities in India's hardest-to-reach areas.
"This announcement marks a turning point for Digital India. Enterprise and government customers, including telecom service providers, banks, factories, schools, defense organizations, domestic airlines, and offshore vessel operators, are eagerly anticipating the arrival of new high performing satcom services," said Partho Banerjee, president and managing director, HCIPL.
Neil Masterson, CEO, OneWeb, added: "OneWeb is delighted to partner with Hughes to offer high-speed, low-latency satellite broadband solutions and contribute to the Digital India vision. OneWeb's constellation will cover the length and breadth of India, from Ladakh to Kanyakumari and from Gujarat to the Northeast and bring secure solutions to enterprises, governments, telcos, airline companies and maritime customers. OneWeb will invest in setting up enabling infrastructure such as Gateways and PoPs in India to light up the services."
Hughes is an investor in OneWeb through its parent company EchoStar. Last year Hughes and OneWeb announced the US Air Force as a customer for a connectivity pilot project in the Arctic, and together signed an MoU around distribution in the US and India. Hughes is also expanding its own broadband satellite capabilities with the Jupiter 3 Ultra-High Density Satellite, expected to launch in the second half of 2022.
Indian telco Bharti Airtel owns 30 percent of OneWeb, having invested around $1bn in the company. Satellite operator Eutelsat has a 22.9 percent stake in the company.
The LEO satellite firm has previously signed distribution deals with Airbus, Hughes, Peraton, AT&T, BT, SoftBank, Rock Networks, MOL, Alaska Communications, Galaxy Broadband, Pacific Dataport, Neom, Vocus, Field Solutions Holdings (FSG), and Tampnet.
SpaceX's Starlink has so far only signed a backhaul deal with Japanese telco KDDI, while Amazon's Project Kuiper has signed a deal with Verizon despite not yet launching any satellites. India's government recently ordered SpaceX to stop preselling Starlink services in the country until it gives regulatory approval.
In other satellite news this week, a Chinese satellite had a near-collision with a piece of debris from Russia's recent anti-satellite (ASAT) weapons test.
The Space Debris Monitoring and Application Center of the China National Space Administration (CNSA) issued a warning Tuesday of an extremely dangerous encounter between the Tsinghua Science satellite and one of more than a thousand trackable pieces of debris from November.