Amazon aims to launch two prototype satellites into Low Earth Orbit (LEO) by the end of 2022 as part of its plans to create a broadband satellite constellation.
Plans for the company's Project Kuiper constellation were first revealed in 2019. The company aims to invest $10 billion in developing and launching more than 3,200 satellites into orbit to provide broadband and backhaul services.
Amazon has yet to launch any satellites as part of its planned 3,236 system-strong Project Kuiper constellation. However, as a condition of its FCC authorization, Amazon is required to deploy at least 1,600 satellites by 2026.
The company this week said it plans to launch two test satellites – KuiperSat-1 and KuiperSat-2 – on ABL Space Systems' RS1 rocket by Q4 2022. The two satellites will help the company test its phased array and parabolic antennas, power and propulsion systems, custom-designed modems, and receiver terminals.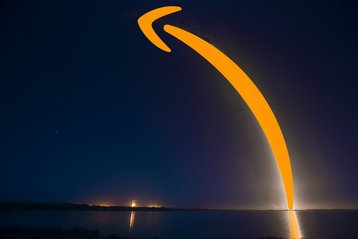 "We've invented lots of new technology to meet our cost and performance targets for Project Kuiper. All of the systems are testing well in simulated and lab settings, and we'll soon be ready to see how they perform in space," said Rajeev Badyal, vice president of technology for Project Kuiper. "There is no substitute for on-orbit testing, and we expect to learn a lot given the complexity and risk of operating in such a challenging environment. We can't wait to get started."
The company has filed with the FCC for a two-year license for the machines and is planning to control the satellites from a ground station in McCulloch, Texas. Earth stations in South America and the Asia-Pacific region will also be used. The launches will take place at Cape Canaveral Space Force Station in Florida. Both satellites will be actively deorbited after the mission in 2023.
In July Amazon acquired Facebook's satellite team. Last month Verizon announced it had partnered with Amazon to use the Kuiper constellation for backhaul once live.
Rival satellite firm OneWeb has signed deals with Hughes and Peraton. AT&T, SoftBank, BT, Rock Networks, MOL, Alaska Communications, Galaxy Broadband, and Pacific Dataport. So far, SpaceX's Starlink has only signed a backhaul deal with Japanese telco KDDI.
"Kuiper's mission to bring high-speed, low-latency broadband service to underserved communities is highly motivating for our team here at ABL," said Harry O'Hanley, CEO of ABL. "Amazon will play a central role in the next generation of space infrastructure, and we're proud to have been selected as their launch partner for these critical early flights."