Amazon has promised to invest $10 billion in Project Kuiper, a plan to provide broadband Internet to the world via thousands of satellites.
The company finally received Federal Communications Commission approval for its plan to deploy 3,236 Low Earth Orbit satellites last week. It said it also expects to offer backhaul solutions for wireless carriers extending LTE and 5G service to new regions.
In space no one can hear you stream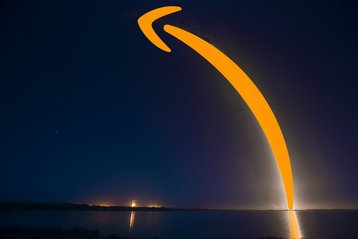 The satellites will be launched in five phases, with the first featuring 578 of the systems orbiting at between 590 and 630 kilometers above the planet. After the first deployment, the service will go live.
The FCC has given Amazon until July 30, 2026 to launch half of its satellites, and another three years for the rest.
When satellites complete their useful life, they will be deorbited in no more than 355 days, significantly less than NASA's 25-year standard.
But, in the FCC filing, rival SpaceX notes that Kuiper has failed to submit a casualty risk analysis, which is required. The analysis would provide an estimate regarding whether portions of a satellite will survive re-entry and reach the Earth's surface, and an estimate regarding the probability of human casualty.
"After review of the record, we conclude that the grant of the Kuiper application will serve the public interest, subject to the requirements and conditions specified herein," the FCC said in its report.
"The broadband services Kuiper proposes to provide will benefit American consumers."
Kuiper states that its system will also include gateway earth stations, customer terminals, software-defined network, and satellite control functionality, satellite operations centers, telemetry, tracking, and command (TT&C) earth stations, and other technologies.
"We are doing an incredible amount of invention to deliver fast, reliable broadband at a price that makes sense for customers," Rajeev Badyal, VP of Technology for Project Kuiper, said.
"LEO-based broadband systems like Project Kuiper present a huge number of challenges, and we have assembled a world-class team of engineers and scientists who are committed to delivering on our vision for Project Kuiper and keeping space a safe, sustainable environment for everyone.
"Combine that with Amazon's deep expertise in networking and infrastructure and its ability to finance such a huge undertaking, and I am optimistic about the impact we can have for these unserved and underserved communities."
Kuiper joins the company's newly formed ASS. Amazon set up its Aerospace and Satellite Solutions division in July to expand the company's Ground Station business and wider space ambitions. Company CEO Jeff Bezos also owns his own rocket company, Blue Origin.