Low Earth Orbit (LEO) satellite firm OneWeb has signed a launch agreement with rival satellite firm SpaceX, after its original launch schedule was thrown into turmoil in the wake of Russia's invasion of Ukraine.
OneWeb this week announced the company and SpaceX have entered into an agreement that will enable OneWeb to resume satellite launches. The first launch with SpaceX is anticipated in 2022. OneWeb said the terms of the agreement with SpaceX were "confidential."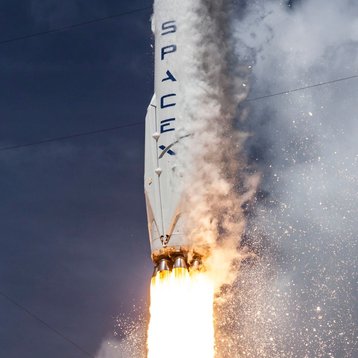 In the wake of Russia's invasion of Ukraine, Russian space agency Roscosmos said it was limiting access to its Soyuz rockets – the type used by OneWeb's launch partner Arianespace. The agency then demanded the UK government divest its stake in OneWeb.
OneWeb had been due to launch 36 satellites in early March via a Soyuz rocket from a Russian-owned launchpad in Baikonur, Kazakhstan. In response to Roscosmos' actions, the satellite firm announced it was no longer launching its satellites from the facility.
OneWeb CEO Neil Masterson said: "We thank SpaceX for their support, which reflects our shared vision for the boundless potential of space. With these launch plans in place, we're on track to finish building out our full fleet of satellites and deliver robust, fast, secure connectivity around the globe."
OneWeb has launched around 428 satellites, around two-thirds of its fleet. SpaceX has launched more than 2,000 and uses its own rockets to launch its machines.
This month has also seen the company sign distribution deals with Kymeta Corp, Eutelsat, Speedcast, and ISM (a Canadian managed services provider and subsidiary of Kyndryl)
OneWeb and Kymeta have also partnered in a Joint Development Agreement (JDA) to develop and bring to market a new u8-based LEO terminal that supports communications on the move (COTM) and communication on the pause (COTP) by the end of 2022.
"We look forward to working with OneWeb as the addition of capacity from their leading LEO satellite network will give customers, including the US government and military, unprecedented access to connectivity in areas where existing networks don't reach. Kymeta's expansion into managed satellite services allows us to package our hardware solutions for connectivity as a service, a capability the US DoD and other end users are increasingly seeking," said Walter Berger, President and co-CEO, Kymeta.
Eutelsat became OneWeb's second-largest shareholder last December. Eutelsat CEO Eva Berneke said: "As a shareholder in OneWeb, we are excited to play a role in the success of this new constellation by incorporating OneWeb's connectivity services into our portfolio of solutions.
OneWeb CEO Neil Masterson said: "This expanded partnership with Eutelsat offers us a significant opportunity to combine our GEO and LEO connectivity solutions, expanding our global capacity and further enhancing our commercial service.
The LEO satellite firm has previously signed distribution deals with Airbus, Hughes, Peraton, AT&T, BT, SoftBank, Rock Networks, MOL, Alaska Communications, Galaxy Broadband, Pacific Dataport, Neom, Vocus, Field Solutions Holdings (FSG), HCIPL, Marlink, Clarus Networks, Eclipse, and Tampnet.
On the ground segment side, Telstra and OneWeb have signed a 10-year deal that will see the Australian telco build and maintain three new teleports in Australia for the LEO satellite firm.
Earlier this month the two companies signed a memorandum of understanding for the Australian telco to use the satellite company's machines to improve coverage across Australia and the Asia Pacific region.
The first of the new teleports, located in Darwin Tivendale, is scheduled to begin installation this month with go-live planned in July. Two further sites – Charlton, Toowoomba, QLD, and Wangara, Perth, WA – are planned for completion later in 2022.
"OneWeb had exacting requirements from the outset, and we worked in close partnership with them from site selection through construction," said Vish Vishwanathan, Vice President Wholesale & Satellite, Telstra Americas. "Teleports are complex sites involving access to secure and resilient infrastructure and on-the-ground expertise, which Telstra has provided to OneWeb throughout this project."
Last month OneWeb broke ground on a new ground station in Brazil. OneWeb hasn't revealed how many ground stations it has in total or their locations but does have facilities across Kazakhstan, Norway, and Portugal alongside US stations in Alaska, Connecticut, and Florida. Reports indicate its network of 648 satellites could require up to 44 ground stations in total, with around 22 thought to be in development in 2020 at the time of its bankruptcy.
By the end of 2022, the company said its ground network will include coverage of the UK, Northern Europe, Alaska, Canada, Greenland, Iceland, and Arctic seas.