Meta, the company formerly known as Facebook, is looking to expand its data center campus outside Richmond, Virginia.
First reported by Richmond BizSense, the company has acquired a large portion of land close to its existing data center within Henrico County's White Oak Technology Park and is looking to develop more data centers under the name 'Project Tropical'.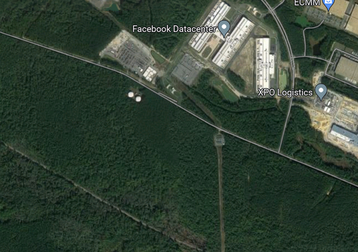 According to the Henrico County real estate page, the 475-acre plot was sold by the County's Economic Development Authority for $35.2 million at the end of October 2022. Scout Development LLC, the same company with which Meta developed and purchased land in White Oak in 2017, was the purchaser.
The company has since filed to develop two data centers at 3951 Portugee Road, next to a substation and south across the road from its existing Henrico campus.
The project was first heard of in September 2017, when Henrico's planning committee approved a 2.5 million sq ft development called Project Echo with an unknown backer. It was formally announced by Facebook in October of that year. An expansion was announced in September 2018, with the first phase of the site going live in August 2020.
The original facility at the White Oak Technology Park has 970,000 square feet (90,116 sqm) of space in its first phase, but could eventually be more than double that size at 2.5 million sq ft (232,258 sqm) across more than 350 acres. The latest purchase more than doubles Meta's potential footprint in the area.
QTS, which has a data center campus close to Meta's, is also expanding its presence in Henrico. Documents suggest the expansion could see up to four 167,000 square-foot (15,500 sqm), two-story buildings developed on land between QTS' existing facility and Meta's land.
After a large expansion spree in 2021, 2022 has seen Meta announce plans to expand its Gallatin data center campus in Tennessee, its DeKalb data center campus in Illinois, the Huntsville data center in Alabama, the Sarpy data center in Nebraska, the Eagle Mountain campus in Utah, and its New Albany campus in Ohio. The company has also announced new US data center sites in Idaho, Texas, and Kansas City, along with a new campus in Spain.
However, after local and government resistance in the Netherlands, Meta has dropped plans to build a large data center in Zeewolde.