What was set to be the largest data center in the Netherlands will not come to be.
A huge planned data center in Zeewolde by Facebook owner Meta has officially been canceled, following the project being paused in March.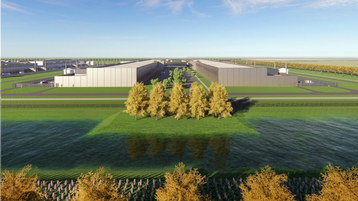 The facility was set to span five data halls and consume 200MW at full build, which would have made it the largest data center campus in the Netherlands. First revealed last year, the data center was proposed just before a ban on new data center constructions in its province of Flevoland, squeaking in before the moratorium was enacted. But that was about as far as the project ever got.
After initially being approved by the town of Zeewolde, the Dutch Senate late last year paused the sale of some of the land the facility was set to be built on, which is owned by the government.
In March, lawmakers in the Netherlands voted to stop any site preparation as they debated whether to sell the land. A month later, it said it did not plan to sell the land "at this time."
After initially saying it would review its options, Meta said that it was now officially killing off the data center project. "When considering a location for a data center, our priority is a good match with the environment. Ultimately, we decided that building a data center in Zeewolde is not the right investment," the company said in a statement to local media.
A spokesperson added the company was not working with the municipality "to conclude this project efficiently."
This specific project is set against a backdrop of increasing hostility towards data centers in the Netherlands.
In February, the Dutch government banned new hyperscale data centers for nine months as it works out new rules for the industry.
Those rules moved forward in June, when the Dutch cabinet approved a draft decision to strictly regulate hyperscale data centers for a longer period, which now heads to the Senate and the House of Representatives.
The law would block municipalities from admitting new hyperscale data centers in a zoning plan or in an environmental plan, essentially banning the development of large data centers. Hyperscale data centers are defined by the government as facilities with more than 10 hectares and with an electricity demand of 70MW or more.
The provinces of Groningen and Noord-Holland are exempted - however, this week the Noord-Holland municipality of Hollands Kroon said that it was taking steps to also pause hyperscale developments.
A 200MW project in Appingedam, in the municipality of Eemsdelta, was also paused following the moratorium.
More in The Data Center Construction Channel
More in Cloud & Hyperscale