Meta, the company formerly known as Facebook, has confirmed that it is behind a proposed data center in Zeewolde, the Netherlands.
The project, which could span five data halls and consume 200MW at full build, has yet to be approved by the Zeewolde city council. The council will vote on 16 December.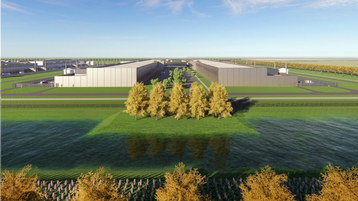 Facebook said that the mayor and aldermen of the municipality in the south of Flevoland have approved the plan.
The project in the province of Flevoland was first disclosed in February, but Facebook hid its identity - going as far as to only use first names when communicating with locals.
The data center, if approved, would be set on a 166-hectare development at Trekkersveld IV (Tractor field IV). That makes it the largest data center campus in the Netherlands by site area, and potentially the largest by actual data center space if all five data halls are built out over a five to eight-year period.
The project appears to have managed to circumvent a ban on new data center constructions in Flevoland, pending a study into the impact of large data centers on the local community. With the law passed this June, Facebook may have been able to proceed because it began work on the project prior to February.
Facebook has pledged to run the site on 100 percent renewable energy, and expects 1,000-1,200 temporary construction jobs, followed by around 400 permanent jobs.
Other Dutch regions have also seen moratoriums. Amsterdam and Haarlemmermeer took a year's break from data centers, resuming in 2020 - with multiple restrictions to ensure controlled growth, but demand remains high.
Following local pushback against its data centers in Wieringermeerpolder, Google this year canceled plans to expand from one facility to four, although it has said that it may build in the country in the future. For its existing site, it used a complicated arrangement with a Luxembourg-based company to lower its tax bill considerably.
Water concerns in Noord-Holland have led to some farmers joining together to try to overturn a permit for more Microsoft data centers. Local trade body the Dutch Data Center Association has disputed the claim that data centers could impact water supplies.
Facebook/Meta currently operates European data centers in Clonee, Ireland; Odense, Denmark; and Luleå, Sweden.