A pause in data center constriction in Amsterdam is coming to the end, with the publication of plans for controlled, sustainable growth.
The Amsterdam metropolitan area's authorities have put proposals out for consultation, which will allow data centers to be built in certain specific clusters, within a set budget of power and floor space. The proposals have emerged after discussions with the Dutch Data Center Association (DDA). They will be discussed by the city councils after the summer break and should end a pause in construction announced in June 2019.
New building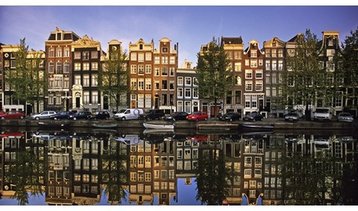 A year ago, Amsterdam and Haarlemmermeer, the two administrations which make up the city's metropolitan area, announced that no new data centers would be approved until 2020, because the sector's demands for power and space were "out of control."
The sector had been growing at 10-15 percent for the previous seven years, as part of the burgeoning four "FLAP" markets, alongside Frankfurt, London, and Paris. The councils were concerned that they had no mechanism to control that growth, saying in their 2019 statement: "Data centers have become indispensable facilities for almost all residents, businesses and institutions, but they also take up a lot of space and, due to the high energy consumption, take a big load on the electricity grid."
Yesterday, the College of Amsterdam (consisting of the mayor and aldermen) gave the green light to a set of proposals developed with the DDA, which has been working to resolve the issue. Haarlemmermeer has published a similar set, having endorsed the principles earlier in June.
The DDA met with both municipalities to explain the economic importance of the sector to the Netherlands and to Amsterdam, and DDA director Stijn Grove says the result is a plan which will enable planned growth for the next ten years: "We are positive about the growth path in both proposals. It is good that there is now clarity again, that will also benefit the investment climate," said Grove.
Haarlemmermeer and Amsterdam have each earmarked four specific campuses for data centers: Polanenpark, Schiphol-Rijk, Schiphol Trade Park and Corneliahoeve in Haarlemmermeer; and Amstel III (South-East), Port/Port City (North-West), Schinkelkwartier (South) and Science Park (East) in Amsterdam itself.
Both municipalities have set a power budget. Haarlemmermeer expects an average annual growth of 70MVA is assumed, and has set given the sector a ceiling of 750MVA to use until 2030. Meanwhile, Amsterdam itself expects annual average growth of 67MVA with a total availability of 670MVA until 2030.
The annual growth rates are an average, DDA policy officer Judith de Lange clarified to DCD: "They can go over one year, but have to go below the figure next year."
Both municipalities will also set a ceiling on the total amount of space data centers can take up.
The policy also sets a specific efficiency target: to get approval, data centers must have a power usage effectiveness (PUE) of 1.2, and practice "nature-inclusive construction." This part of the guidelines will be detailed further in a Green Deal between the sector, the municipalities, and other stakeholders.
Small "Edge" data centers under 5MVA, built outside the campuses will be exempt from the limits, but de Lange told us that providers will not be able to use this as a loophole by, for instance, building 10 such data centers on the same site: "As an industry, we focus on a balanced and responsible growth which we will closely monitor together with the municipality," she said.
The digital economy now makes up 60 percent of the Netherlands' gross national product, and supports 3.3 million jobs directly or indirectly (out of a total just over 17 million). The municipalities have agreed that new clusters will be needed in the broader metropolitan region of Amsterdam, which consists of 32 municipalities, to support a better regional spread of growth.
Further details will be given in a "knowledge session" webinar given by the DDA on July 9th, at 16.00-17.00 local time, in English. Price to non-DDA members is €50 ($56m).