Meta (formerly known as Facebook) is expanding its data center campus in Eagle Mountain, Utah.
This latest two-building expansion will add around 2 million square feet to the campus and bring the company's total capital investment in the Eagle Mountain project to $1.5 billion, according to the company.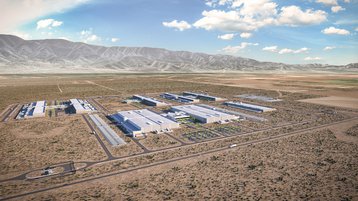 "We are thrilled to announce that we're growing our presence in Utah with a new expansion of our Eagle Mountain Data Center," the company posted on Facebook over the weekend.
Facebook's plans for a $750 million, 1,000,000 sq ft (93,000 sqm) data center campus in the state, near to Salk Lake City, were first made public in 2018. A first expansion of 500,000 sq ft (46,000 sqm) was announced in 2019, with a second 900,000 sq ft expansion announced last year. The site came into operation in July 2021.
"Meta's decision to expand the Eagle Mountain Data Center shows its commitment to this community. Eagle Mountain has experienced an enormous benefit in so many areas resulting from Meta's presence in our community. We are confident that this expansion will help lead to more positive outcomes for Eagle Mountain and Utah County," said Tom Westmoreland, Mayor of Eagle Mountain.
After a large expansion spree in 2021, 2022 has seen Meta announce plans to expand its Gallatin data center campus in Tennessee, its DeKalb data center campus in Illinois, the Huntsville data center in Alabama, the Sarpy data center in Nebraska, and its New Albany campus in Ohio. The company has also announced new US data center sites in Idaho, Texas, and Kansas City, along with a new campus in Spain.
However, after local and government resistance in the Netherlands, Meta has dropped plans to build a large data center in Zeewolde.
More in Cloud & Hyperscale
More in Construction & Site Selection