Facebook has announced that it is expanding its Eagle Mountain Data Center in Utah for the second time by more than 900,000 square feet (83,600 square meters) with two new buildings due to be built at the facility.
Facebook's plans for a $750 million, 1,000,000 sq ft (93,000 sqm) data center campus in the state, near to Salk Lake City, were first made public in 2018. A first expansion of 500,000 sq ft (46,000 sqm) was announced in 2019. As with the previous expansion, this new announcement is significant in size, growing the facility by more than 50 percent.
For more breaking data center news, features, and opinions, be sure to subscribe to DCD's newsletter
"Since we first broke ground in 2018 we have continued to build and expand on this site, and we anticipate keeping construction crews busy for years to come, with approximately 1500 workers on site at peak," a statement on the data center's Facebook page says. "Work continues on the first three buildings on site. As of today, over 4 million work hours have gone into construction and we have erected over 12,000 tons of steel and poured over 100,000 cubic yards of concrete."
Green expansion for FB in Utah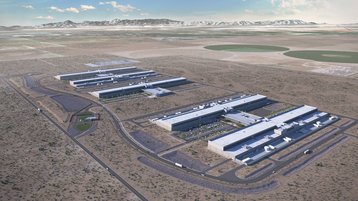 The social network operates 17 data centers around the world, and is making a concerted effort to embrace renewable power. In September, the company bought 235MW of solar power in Utah from Rocky Mountain Power.
"We have worked to bring more than 500MW of new solar energy to the Utah grid and we have invested in a project that will restore water to the Provo River," said the Facebook post. "Once completed, the Eagle Mountain Data Center will be supported by 100 percent solar energy from projects here in Utah."
In an additional comment on the post, Facebook says the facility recycles millions of gallons of water back to the community each year for public use, and together with the Central Utah Water Conservation District and Trout Unlimited is working restore water to the Provo River.
"Facebook's sustainable expansion in Eagle Mountain shows the long-term commitment this global tech leader has to Utah. Since 2018, this data center has been a tremendous boon to the local economy and we're extremely grateful for Facebook's ongoing investment in our state," said Governor Spencer Cox.
"This additional investment from Facebook is amazing news for our community and a testament to Utah's forward thinking policies that continue to encourage investments in our state," added Representative Jefferson Moss.