Facebook has officially brought its Eagle Mountain, Utah, data center online.
Construction is continuing at the $1bn site, with the campus eventually expected to span at least 1.5 million square feet (140,000 sq m).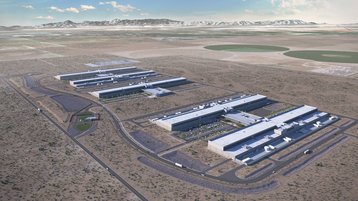 "Overall, we have provided approximately $2 million in community support since breaking ground in 2018, including nearly $1 million to local schools, small businesses, and nonprofit organizations as part of our Covid-19 relief efforts," Facebook said in a statement.
In return, the local community has given Facebook approximately $150m in tax breaks over the next 20 years for the first phase of its campus.
Facebook has been granted 100 percent tax relief on personal property taxes due and 80 percent relief on real property taxes due for a term of 40 years for four of the five taxing entities it is taxed by.
The fifth, the Alpine School Board, has a limit of $40 million in tax breaks per phase and $120 million total over 35 years.
Additional tax breaks are expected for the second phase, and the open-ended incentive agreements will also cover future expansions.
Eagle Mountain commissioned a study into how much the tax breaks could amount to if the company followed through with a mooted five phases.
The study found that the company could earn as much as $750 million in tax relief - the cost of an average Facebook data center.
"We are proud to invest $1 billion into Eagle Mountain but even prouder to see how our investments spur further economic benefits for the area, especially during this tough economic climate," Facebook community development manager William Marks said.
"Our data center investments go beyond economic growth to benefit the local environment and community."
During the peak of construction, Facebook said that 1,250 construction workers were on site. Once it is fully built out, it expects to "support" 200 jobs, but actually employ just a few dozen.