Meta, the company formerly known as Facebook, is to build a data center in Temple, Texas.
The new facility, located on 393 acres off NW H K Dodgen Loop and Industrial Blvd., will total approximately 900,000 square feet (83,600 sqm) when completed. Construction will begin in Spring 2022.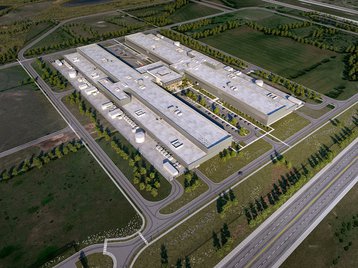 "Temple is the home of our newest data center, and we are excited to join the community," said Darcy Nothnagle, director of community and economic development at Meta. "We've been welcomed by a strong set of local partners who are committed to the long-term success of the region. This is just the beginning of a strong partnership, and we look forward to working with you to invest in this great community."
The $800 million facility will be the social media company's 17th data center in the US, and second in Texas. The company said the Temple Data Center will be supported by 100 percent renewable energy from right here in Texas, having already invested in more than 700MW of new wind and solar energy in the state.
"We are thrilled to announce Meta's decision to open a facility in Temple," said Adrian Cannady, President and CEO of Temple Economic Development Corporation (TEDC). "Texas was recently named the top state in the nation for tech worker migration. When you combine that with Temple's low cost of doing business and central location between major markets, it creates an incredible competitive advantage for our region. The hyperscale data center will have a positive impact on our community not only by creating jobs, but because of Meta's commitment to invest in local schools, nonprofits and community projects."
Meta said it was investing in the Richland Chambers Creek Wildlife Management Area; the water restoration project will restore over 64 million gallons of water per year to Texas watersheds.
"Meta's continued expansion in Texas is a testament to the exceptional business climate and skilled, diverse workforce we have here in the Lone Star State," said Texas Governor Greg Abbott. "It is because of hardworking Texans and our commitment to helping businesses grow that companies continue to move and expand all across Texas. We are excited to welcome Meta to Temple and look forward to the new job opportunities they will bring to the local community, as well as the advancements in technology we will see in the future."
Last year the TEDC announced Rowan Green Data – a Joint Venture between Quinbrook Infrastructure Partners and Birch Infrastructure – planned to develop a 500MW facility on 32 acres in Temple's Synergy Park.
Meta's other Texas facility is located in Fort Worth. The company broke ground on the 2.6 million sq ft facility in 2015, and brought it online in 2017.
After a large expansion spree in 2021, 2022 has seen the company formerly known as Facebook announce plans to expand its Gallatin data center campus in Tennessee, announce new data centers in Idaho and Kansas City, along with a new campus in Spain.
The company has had to back down from plans to develop a facility in Zeewolde in the Netherlands after the government repeatedly looked to block the land sale and development.