A new data center firm is planning to develop a large hyperscale campus in the City of Temple, Texas.
The Temple Economic Development Corporation (EDC) said this week that Rowan Green Data is to build a 500MW data center campus in the city of Bell County.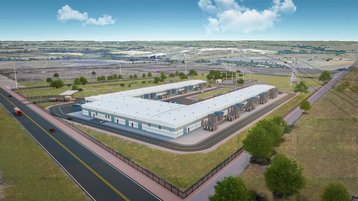 The proposed facility will be located on 32 acres in southeast Temple in Synergy Park.
Pending final negotiations with local officials, the EDC said the project will be undertaken in two phases with the first phase hosting 200MW.
"We are thrilled to have Rowan Green Data expanding to Temple," said Adrian Cannady, President and CEO of Temple Economic Development Corporation. "Rowan is a welcome addition to our emerging technology sector."
The EDC – which acts as the economic development entity for the City of Temple – said Rowan plans to invest $300 million into the project and construct 135,000 square feet (12,500 sqm) of new buildings and data center space.
The first Phase of the 'Temple Green Data Campus' is expected to be complete by the summer of 2022, with the second phase due to be fully operational in 2023.
"After our first conversations with Temple, we knew their business-friendly environment, infrastructure and partnership would be an ideal match for our current data center and future growth opportunities," said Garret Bean, Managing Director of Development for Rowan.
Rowan is a Joint Venture between Quinbrook Infrastructure Partners and Birch Infrastructure to develop hyperscale data centers. Quinbrook is an ESG-focused investment manager, while Birch provides a number of energy-related services including procurement and site selection for data center firms. The Rowan venture was seemingly formed some time in the last year.
According to the Quinbrook website, Rowan is currently or planning to develop facilities at a number of sites across the US; a 45MW facility in Oregon under the name Project Hood; a 500MW facility in San Francisco under the name Project Hannold; another 50MW facility in San Francisco under the name Project Anker; and four sites in Texas totaling 1,200MW of capacity under the name Project Longhorn it says will serve both hyperscale tenants as well as blockchain and other high-performance computing needs.
More in Cloud & Hyperscale