Meta (formerly known as Facebook) is planning to expand its Gallatin data center campus in Tennessee.
First reported by Biz Journal, the company is planning to construct another building on the campus, with the city of Gallatin approving final plans for the project this week.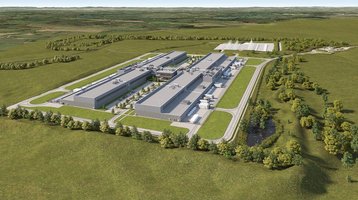 Meta – then Facebook – first announced plans for an 800-acre Tennessee campus in 2020. Earlier this month DPR Construction recently celebrated the topping out of the first data center on the site.
The next phase of work will create a neighboring building with 627,000 square feet (58,250 sqm) of data center space and 45,000 sq ft (4,180 sqm) of office space, according to plans filed with the city. There are reportedly plans for a third building as well in the future.
While Meta/FB normally announces expansions of buildings in pairs, it seems this expansion will only feature one large building. The move will take the company's total investment in the site from $800 million to more than $1 billion.
According to the Gallatin developments page, the original Facebook Gallatin Industrial Data Center was set to be a 982,500 sq ft (91,300 sqm) data center and associated infrastructure, on 805 acres, located south of Roundtree Drive, west of Brights Lane, and north of Hartsville Pike. The campus is expected to come online in 2023.
The site says an amended site plan includes plans for a 671,650 sq ft (62,400 sqm) industrial building, on 512 acres, located at 1432 Gateway Drive.
The social media giant last year signed a 110MW power purchase agreement (PPA) to procure solar energy for the Gallatin facility from 2023.
2021 saw Meta/Facebook invest heavily in its data center infrastructure, both in the US and abroad. As well as new opening new campuses at its Eagle Mountain, Utah, and Huntsville, Alabama, sites and breaking ground on its new data center campus in Mesa, Arizona, the company announced more than a dozen new data center buildings at its Altoona, Papillion, Prineville, Los Lunas, Huntsville, and Eagle Mountain campuses totaling more than five million sq ft (464,500 sq m) of new space.
More in Cloud & Hyperscale