Facebook has announced it is expanding its Prineville data center campus again, but the company is facing troubles over offsetting the carbon impact of its energy use.
The latest expansion will add a further 900,000 square feet (83,600 sq m) with two new buildings of 450,000 sq ft (41,800 sq m) each, with servers planned to be on two separate floors. Development is due to finish in 2023.
Prineville gets another expansion, again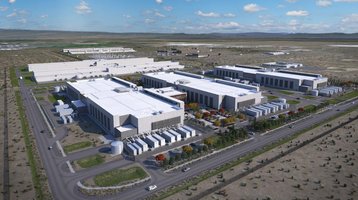 This latest expansion takes the total to 11 buildings and 4.6 million square feet. In development for over 10 years, it is Facebook's largest data center campus in the US, and has seen the social media giant invest more than $2 billion into the site.
"Facebook has been an important part of our community now for over ten years, and their continued growth here in Prineville is just a testament to the excellent relationship that we have together," said Prineville Mayor Jason Beebe. "I'm excited for this new growth and their commitment to Prineville and Crook County and the support they have provided for our community, especially the schools."
As part of the announcement, FB announced a new $60,000 grant for Crook County School District's K-12 robotics program, and local politicians praised the company's donations to education in the area.
"Facebook Data Center in Prineville has consistently provided grants to local projects and nonprofits for many years," said Representative Vikki Breese-Iverson. "They have shown what a partnership between a small community and large corporation can be in Rural Oregon. I applaud their efforts, especially in their support of our school district here in Crook County."
Facebook faces renewables trouble in Oregon
The Prineville Data Center is supported by 100 percent renewable energy, including two solar projects located in Oregon. However, recent regulation changes could affect Facebook's ability to offset its use of fossil fuels and prevent it from using energy certificates in the state.
Currently, the social network buys energy from Pacificorp and uses what is known as the 272 tariff scheme (also called Blue Sky Connect) which allows companies to buy renewable energy certificates to offset actual energy use.
However, as first reported by BizJournal, a recent change in regulations means Pacificorp isn't issuing energy certificates while the company and the energy commission clarify the classification status of the 272 offering.
And as it currently stands, Facebook says it is currently in a situation where large PacifiCorp's customers do not have a renewable energy option and warns that the changes could disrupt its efforts to support its facility with renewable energy.
Through its Vitesse LLC subsidiary, Facebook is asking the Oregon Public Utility Commission to clarify and reconsider those changes, lest it "lose the only practical renewable power purchase option that meets its sustainability goals in Oregon."
"If there is no renewable power option for Vitesse's Prineville Data Center in Oregon, then it would be Facebook's only data center in the country without a way to maintain its commitment to supporting its operations with 100 percent renewable energy," said the company.
When first introduced by PacifiCorp, the commission accepted the 272 tariff wasn't selling bundled energy to customers. Such 'bundled' products can only be offered under what's known as a voluntary renewable energy tariff, or VRET, which are more complex and tightly regulated offerings. PacifiCorp does not currently offer a VRET.
However, limits on Pacificorp's 272 offering were put in place after a challenge from independent energy provider Calpine Energy Solutions, saying it should be classed as a VRET. The commission has allowed PacifiCorp to continue to use Schedule 272, but under a cap that PacifiCorp would face were the program considered a VRET, and told PacifiCorp "not to consider Schedule 272 an appropriate mechanism to provide community-wide green tariffs."
Investigations are ongoing about the status of 272 and changes to the scheme, but the cap remains in place. Pacificorp is reportedly considering offering a VRET in the future, which could take up to a year to go through the proper channels and onto the market, leaving customers such as Facebook are unable to offset their energy use in the interim.
Facebook is asking the commission to lift the cap while the investigation is ongoing or a new VRET option is available, something it is yet to do.
"Vitesse cannot overemphasize the importance of having a viable near-term renewable power option for large cost-of-service customers," Facebook argued. "It is unclear to Vitesse whether the Commission thoroughly considered the effect the cap would have on Schedule 272 customers like Vitesse."