Meta, the company formerly known as Facebook, has announced plans for a new data center in Kuna, Idaho.
The 960,000 sq ft facility will be the social media firm's 15th data center in the US and 19th globally. The company said it was investing $800 million in the project.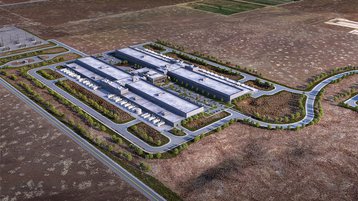 "We are thrilled to be breaking ground on our newest data center in Kuna, Idaho. Thank you to all of our partners who helped us move this project forward," said Darcy Nothnagle, director of community and economic development at Meta. "Kuna is a great place to call home and we are committed to investing in the community's long-term vitality. We look forward to having a strong, fruitful partnership for years to come."
The company is due to break ground in September 2022, with construction anticipated to continue through 2025. Meta had been working with the city under the title Project Peregrine.
"We are excited to welcome Meta to Idaho and the Treasure Valley," Idaho Department of Commerce Director Tom Kealey said. "Meta's large investment in Kuna means great new jobs and innovation opportunities for the city and our state. We look forward to a long, successful relationship with Meta and other stakeholders."
Meta said it was "committed to being a positive contributor in its data center communities", and would be investing in renewable energy and water restoration projects. The company will be the first customer to participate in Idaho Power's proposed Clean Energy Your Way program.
"For Kuna, we worked closely with Idaho Power to develop and implement a new green tariff that will allow companies like us to support their operations with 100 percent renewable energy. Additionally, we have a global goal to restore more water than we consume by 2030. In Idaho, we will be investing in water restoration projects in support of our data center," the company said in a post announcing the facility.
As part of the development, Meta is investing approximately $50 million in a new water and sewer system for the city. Infrastructure will be constructed by Meta and dedicated to the City of Kuna to own and operate.
"Kuna welcomes Meta to our city and values their commitment to our community," said Kuna Mayor, Joe Stear. "As the first large anchor in the city's East Kuna Industrial area, their infrastructure investment is a catalyst for expanding the city's ability to support well-paying jobs and attract other industrial and manufacturing users the Kuna."
This is the first large-scale data center in the area. Kuna is located to the south of Boise, which houses a few smaller facilities from the likes of Involta and Fiberpipe. Idaho passed a data center tax breaks bill in 2020.
2021 saw Meta/Facebook invest heavily in its data center infrastructure, both in the US and abroad. As well as opening new campuses at its Eagle Mountain, Utah, and Huntsville, Alabama, sites and breaking ground on its new data center campus in Mesa, Arizona, the company announced more than a dozen new data center buildings at its Altoona, Papillion, Prineville, Los Lunas, Huntsville, and Eagle Mountain campuses totaling more than five million sq ft (464,500 sq m) of new space.
2022 has seen the company announce plans to expand its Gallatin data center campus in Tennessee.
More in Cloud & Hyperscale
More in Construction & Site Selection