Meta, the company formerly known as Facebook, is to expand its DeKalb data center campus in Illinois.
The social media firm this week announced it will add three new buildings to the site. Once completed, the nearly 2.4 million-square-foot data center will represent an investment of over $1 billion.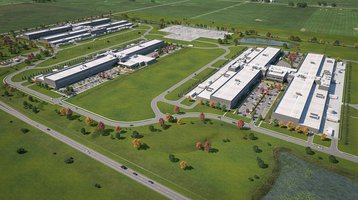 "We are thrilled to be expanding our presence in Illinois. The city of DeKalb and the State of Illinois have been great partners from the beginning, and we look forward to a continued strong and fruitful partnership for years to come," said Darcy Nothnagle, Director of Community and Economic Development, Meta.
First announced in June 2020, the first two buildings on the 505-acre campus are expected to be completed by 2022 and total more than 907,000 square feet at a cost of $800 million.
"The impact Meta has made within the City of DeKalb goes beyond just an economic one," said Mayor Cohen Barnes, City of DeKalb, IL. "Since day one, they have made a concerted effort to make a larger impact on DeKalb, and I look forward, with this announcement, to seeing that partnership continue to grow over the years to come."
In Illinois, Meta said it has invested in two new wind energy projects in Morgan and DeWitt counties, adding a total of 295MW of renewable energy to the local grid.
Meta is also collaborating with the University of Illinois at Urbana-Champaign on a pilot with the goal of developing a more sustainable concrete mix. The project aims to use artificial intelligence (AI) to help generate possible formulas to optimize concrete mixes for different uses.
Meta and its concrete trade partner, Ozinga refined the formula and test applications were poured in non-critical areas of the DeKalb Data Center including the guardhouse floor slab and the floor slab of the construction team's temporary office building;. These confirm early signs that Meta has been able to successfully design and use concrete that meets its strength requirements and has a 40 percent lower carbon impact than the regional benchmark.
The company said that while it is encouraged by the results of the pilot, further developments and tests are needed to scale the project.
After a large expansion spree in 2021, 2022 has seen Meta announce plans to expand its Gallatin data center campus in Tennessee and its New Albany campus in Ohio, announce new US data center sites in Idaho, Texas, and Kansas City, along with a new campus in Spain.