Facebook plans to build an $800m data center in DeKalb, Illinois.
The company said that the facility will support around 100 long term jobs, as well as hundreds of temporary construction jobs.
Just don't ask about the ad boycott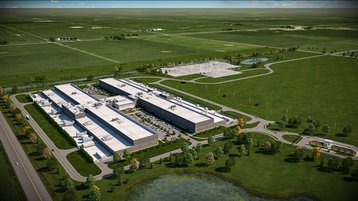 The 907,000 square foot (84,300 sq m) data center will be Facebook's 12th in the US, and supported by 100 percent renewable energy - via power purchase agreements.
Set on a 505-acre property just south of Route 88, the first two buildings on the campus are expected to be completed by 2022, with the possibility for five buildings in total.
"There are many variables that enter into the decision process for data center locations, and DeKalb provided many compelling reasons for Facebook to bring our newest data center to Illinois," Rachel Peterson, VP of data center strategy for Facebook, said.
"Today, we're proud to celebrate that DeKalb will be Facebook's newest home," Jerry Smith, DeKalb Mayor, said.
"It's a boon to our community, and once online, this data center will be part of a network that connects people all over the world. We hope that the ripple effect of Facebook's decision will be a catalyst for more companies to see all that DeKalb and this region have to offer."
Last year, Illinois passed a huge data center tax exemption, pushed by the Illinois Chamber of Commerce, a private lobbyist group that lists Equinix as a member.
Michael Negron, acting director of the Illinois Department of Commerce and Economic Opportunity (DCEO), added: "The State of Illinois is thrilled that Facebook has chosen to build a state-of-the-art data center that will advance our commitment to growing technology and renewable energy throughout Illinois."
Separately, Facebook earlier this year agreed to a $550 million privacy settlement in Illinois due to an automated tagging feature powered by facial recognition technology that broke the state's biometric privacy law.
The company said that it would significantly decrease its 2020 infrastructure spend due to the Covid-19 pandemic, and defer $3bn in costs to 2021.