A criminal investigation has been launched by the Altoona Police Department after a noose was found at a Facebook data center construction site in Iowa.
A Turner Construction supervisor found the noose hanging from a Waldinger Plan Lock Box at 5:50am on Friday, the anniversary of the end of slavery in the United States.
Racism in the US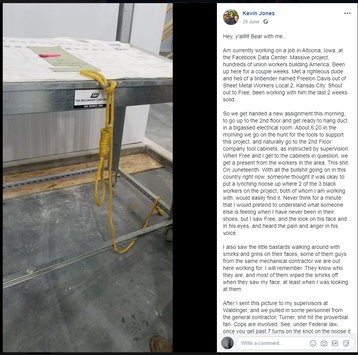 "This disturbing offensive act will not be tolerated, and it's upsetting to everyone involved," Lt. Alyssa Wilson, head of strategic comms at the police department, said.
There was no note on the noose, there are no suspects, and it did not appear to be placed in an area set to target a specific individual.
Turner Construction and Facebook have launched their own internal investigations alongside the Altoona Police Department's investigation.
"With all the bullshit going on in this country right now, someone thought it was okay to put a lynching noose up where 2 of the 3 black workers on the project, both of whom I am working with, would easily find it," Waldinger employee Kevin Jones wrote in a Facebook post.
"I also saw the little bastards walking around with smirks and grins on their faces, some of them guys from the same mechanical contractor we are out here working for. I will remember. They know who they are, and most of them wiped the smirks off when they saw my face, at least when I was looking at them."
Jones said that Facebook and Turner decided to pause construction work "until the middle of next week for sensitivity training for upper management, foremen and supervisors, and then us grunts. Unpaid. So someone's racist hate crime was going to cost everyone else a week's pay and benefits."
But a Black employee spoke up, noting that he would likely be blamed for the lost pay. "So we got the word from Facebook this afternoon. Paid time off, it turns out, after they had just reopened the job from the Covid shutdown. Good for Facebook, Turner doesn't lose traveling workers to other jobs, Waldinger doesn't have mass desertion."
Turner Construction said in a statement: "Turner has stopped work on site and we will meet with the entire workforce to discuss what happened, take time to share information and have an open discussion with every worker in order to create a more supportive work environment and increase racial sensitivity. We will reinforce our policy of zero tolerance for harassment of any kind. This includes behavior that exhibits hatred or intolerance toward any person based upon race, religion, ethnicity, gender or sexual orientation.
"Turner's first priority is the safety and welfare of our employees and all people on our job sites."