Facebook is planning to build a $1 billion data center in eastern Henrico County, Virginia, multiple sources told the Richmond-Times Dispatch (Update: The data center is now official, more details below).
The project at the White Oak Technology Park will feature 970,000 square feet (90,116 sq m) of data center space and associated facilities in its first phase, but could eventually grow to span 2.5 million sq ft (232,258 sq m). DCD has previously reported on the site, then known as Project Echo, as it made its way through the planning process, but the company behind it was unknown.
Less taxes; more jobs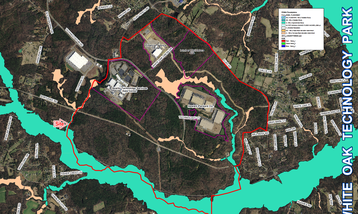 The data center will be officially announced today by Governor Terry McAuliffe at the state Capitol, in an event attended by state and local lawmakers. It is expected to lead to the creation of "thousands of jobs" during construction, the Richmond-Times claims, and more than 100 full-time jobs once complete.
Update: "Working with companies like Facebook and many others, we are advancing Virginia's position as a global leader in the technology economy," McAuliffe said.
The Governor added that Facebook will spend $750 million on construction and $250 million on multiple solar farms.
"One of the many important factors in our search for a new data center location is being able to source clean and renewable energy. We also look for great partnerships within the local community, robust infrastructure… and a strong pool of local talent," Rachel Peterson, Facebook's director of data center strategy, said.
White Oak is already home to a 1.3m square feet (120,773 sq m) QTS data center, set in a building that once used to house a semiconductor factory.
The factory was originally opened in 1996, in a $1.5 billion joint venture between Motorola and Siemens, bringing thousands of full-time jobs to the region. It was then sold to Infineon Technologies and then Qimonda, before closing in early 2009.
This year, the county made efforts to attract more data center developers, by slashing taxes on data center equipment. In April, the Board of Supervisors cut the tax rate from $3.50 per $100 of assessed value to $0.40 per $100. The new rate went into effect in July.
According to the Virginia Economic Development Partnership, Facebook will receive about $19 million in state tax exemptions through 2035.
Now we know
Facebook being outed as the facility's backer also solves the mystery of the 'Aura Development' in Brentsville Magisterial District, Prince William County, Virginia, that DCD uncovered last month.
Both projects were listed as having Delaware-based Scout Development LLC as the developer, Northern Virginia-based Christopher Consultants as project engineer, and Gregory Drew as project head.
Aura was similarly planned as a 2.5 million sq ft (232,258 sq m) project and may well have been a backup site, should the White Oak data center have failed to get the necessary permission. DCD will continue to track its progress.