QTS is looking to expand its Richmond data center in Northern Virginia.
According to a filing with the Norfolk District of the US Army Corps of Engineers, QTS has filed for environmental permits to construct buildings and attendant structures at 6000 Technology Boulevard in the Sandston Area of Henrico County, Virginia, to "expand an existing data center for industrial use."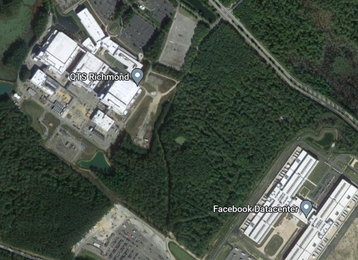 The application says the project – referred to as 'QTS East Expansion' in some of the documents – is being proposed on an 80-acre portion of undeveloped land on a 210-acre site. Documents suggest the expansion could see up to four 167,000 square-foot (15,500 sqm), two-story buildings developed on land between QTS' existing facility and Facebook's nearby Henrico data center.
The filing notes that permanent palustrine forested wetland impacted for the build-out of the 80-acre portion of the site would total 2.14 acres. The application is open to comment until May 2022.
QTS acquired the former Qimonda semiconductor fabrication facility in April 2010 for $12m through a bankruptcy-court auction and subsequently converted it to a data center. Located within White Oak Technology Park, QTS' facility currently spans 1.3 million sq ft (120,800 sqm) and offers 110MW of capacity across three buildings. The company notes that it owns 200 acres of adjacent land and has around one million sq ft (92,900 sqm) of further expansion capacity.
QTS currently operates five data center campuses across Virginia; One each in Richmond and Manassas, and three in the Ashburn area.
The company – which was taken private last year after being acquired by Blackstone – is also interested in acquiring more than 800 acres in Prince William County in Northern Virginia as part of the controversial PW Digital Gateway development proposal.
This year has already seen QTS filed to expand its Dallas-Fort Worth data center campus in Texas and its Piscataway data center in New Jersey.
In Texas, QTS aims to invest $50 million in expanding its existing data center to two stories in a 168,770 sq ft (15,680 sqm) project. It also aims to spend $100 million developing a 471,876 sq ft (43,800 sqm) two-story data center adjacent to the existing facility. Work on both projects would begin May 2022 and finish in June 2023.
In New Jersey, the company is aiming to build a two-story addition, approximately 45,000 square feet per floor, to its existing data center.