DCT - Facilities Management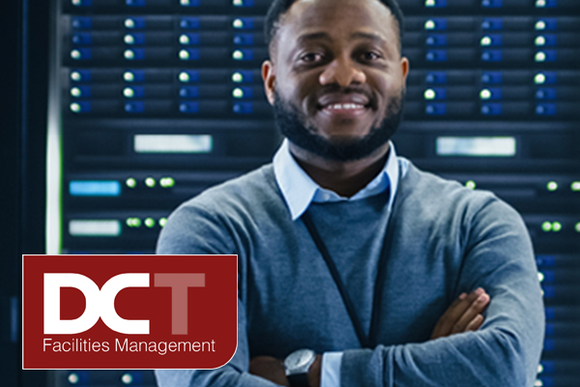 Learn the concepts that sit behind mission critical operations
The DCT credential has been developed to help individuals and data center operators demonstrate their competence in facilities management. It is underpinned by the industry's most comprehensive online self-study program called Foundations of Mission Critical Infrastructure.
Foundations of Mission Critical Infrastructure or FMCI, comprises 18 e-learning modules and a total of 64 hours of self-study which can be taken at the students own pace outside of the working environment. It is being used by IT and facilities teams globally to create an education baseline for the the mission critical workforce and to promote a safer and more efficient working environment.
To earn the DCT credential, learners must complete only 16 of the required modules / approximately 56 hours of e-learning from the FMCI curriculum.
Do you fit the DCT profile?
Current DCT holders include both IT and facilities technicians already working within data centers as well as individuals looking to transition into or start a new career. Gaining this credential will demonstrate to employers that you have an in-depth understanding of the concepts that underpin the mission critical operations discipline and that you are aware of all the major design considerations.
What are the benefits?
By successfully completing the 16 requisite FMCI modules you will be awarded the DCT credential that you can use after your name in the public domain. You will also earn 56 CPD/PDH points which can be used against other professional memberships and certifications. We will provide you with a digital badge and certificate which can be shared with your network, as well as a print-quality certificate. To learn more about digital badges and certificates click here.
How long is the credential valid?
The DCT credential is valid for two years from the date of issue. Prior to the date of expiry, in order to maintain your credential, you must enroll and complete the DCT recertification pathway. You can find more information about DCT Recertification here.

There is a lot of useful information reference day to day operations from the infrastructure/IT to administrative tasks. The material included in the courses will allow our team to increase their knowledge base and apply it to their day to day activities, increasing efficiency and reducing risk. Regardless of how long you have worked in the Mission Critical industry it is always good to go back and review information on a periodic basis. Great refresher course for even those that have several years' experience in the management and operation of mission critical facilities.

Rick Lovell, Facilities Director | Mineral Gap

Right now I have 60 of my facilities engineers going through DCD>Academy's Foundation of Mission Critical Infrastructure online certificate program. As well as finding the budget I need to help my team find the time to do this sort of thing - so I incorporate training time into my operational planning. ​The e-learning program takes then through all the principles that lay behind operating and maintaining a world class data center. I'm already noticing the difference.

Paul Willenberg, Senior Regional Manager | Digital Realty