Digital Badges & Social Certificates
A great way to protect & share your credential information
Digital badges and certificates enable you to share and validate your DCD>Academy credential with your social network. When you share your badge or certificate, viewers can easily verify your credential as well as obtain information about the training that you completed to earn it.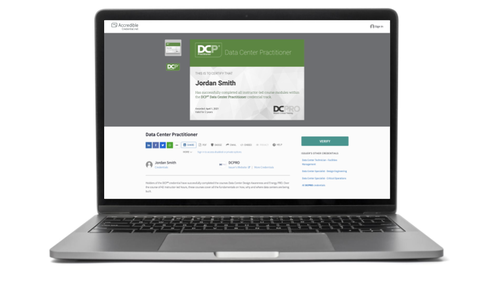 DCD>Academy credential badges and certificates are issued via Accredible. Accredible is a platform for creating digital badges and has issued millions of digital badges for professional associations around the world, to recognize career certifications and achievements. In partnership with Accredible, it´s easy to demonstrate your commitment to the data center industry and share your credential with your network.
What are the benefits?
Always Accessible - You´ll never have to worry about misplacing or losing access to your certificate. Your credential will always be available via url.
Easily Shareable - You´ve worked hard to earn your credential so it should be easy to show it off. Digital badges and certificates allow you showcase your achievement on Facebook, Twitter and LinkedIn with one click.
Control Your Privacy - You can modify your privacy settings to make your credential publicly viewable, or private so that only a select few can view it.
Learning, Verified - Your achievements can be verified at any time by potential employers, clients or stakeholders. Your certifications on LinkedIn can be linked to your live credential to allow easy verification.
Click here to view a digital badge in action
Industry-recognized credentials