Airflow Management
Course Description
This course addresses industry best practices used to optimize energy efficiency. Additionally, an in-depth analysis is conducted on several data center designs using both CFD modeling software and cooling path management. Pressure, temperature and airflow are tested to identify where and how improvements can be implemented.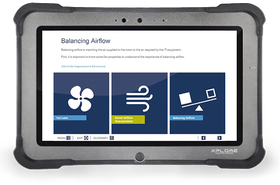 Learning Objectives
Recognize the benefits that proper control has on energy efficiency and facility reliability
Identify best practice solutions for a given data center design
Identify the 3 segments of cooling path management and the associated evaluation items for each
Describe the design and implementation of 4 data center layouts: Hot Aisle/Cold Aisle, Cold Aisle Containment, Hot Aisle Containment, In-Row Cooling
Explain dealing with incidents – what really happens and the key role of exercising and testing in ensuring organizational resilience
This course has met the required standards for and is endorsed, approved or accredited by the organisations listed below. Upon successful completion of this course, individuals are eligible to obtain CPD/ PDH units. Further details about our relationship with each organisation will be made available upon request.
Key Topics
Airflow Method Efficiencies
Air Volumes and Cooling
Balancing Airflow
Cable Management
CFD Calibration & Validation
Cooling Path Management
Hot Aisle Containment
Cold Aisle Containment
In-row Cooling
Selection & Efficiency