Credentials & Recertification
Credentials that are recognized globally
We have developed four credential tracks that take you through the A-Z of data center design and operations, from the technician level right through to sub-system specialisms like advanced power and cooling.
Why are credentials important?
Credentials show your employer and your customers that you have the knowledge and skills to perform your professional function. Accreditation can help make it easier for a potential employer to envision you doing a specific job and is part of the continuous professional development that you need in order to advance in your career.
Credential-based L&D Framework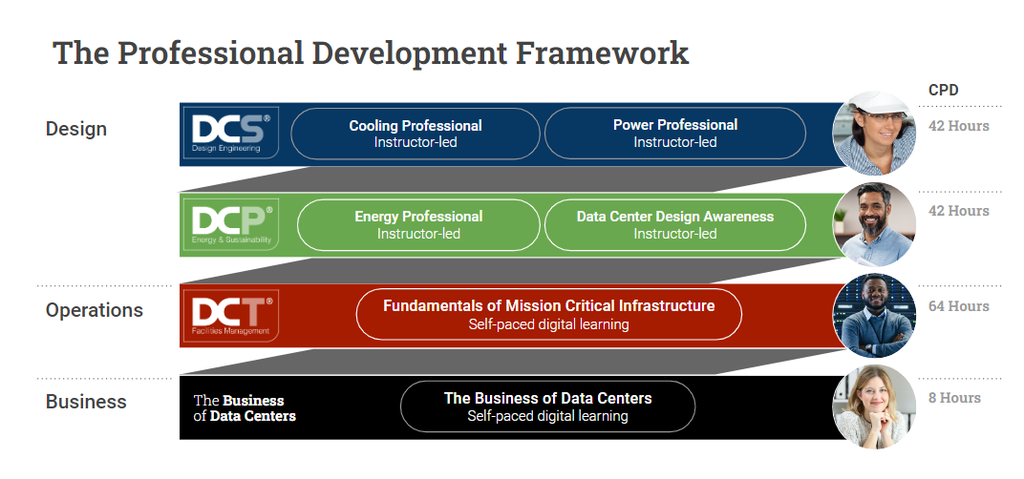 A new approach to recertification
Once you have completed the required classroom courses or e-learning modules for your chosen track you will be awarded your DCT, DCP or DCS credential. You can use this for 2 years at which point you will need to re-certify, unless you decide to move onto a more advanced credential track.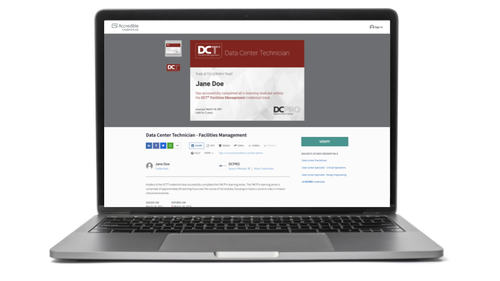 This is a fast paced industry so to help you keep up with new technologies and rapidly evolving best practices we have developed a library of micro-learning modules focusing on the latest trends, debates and topics in the industry.
Our new approach to recertification is about giving you access to the latest and most relevant learning material to challenge and expand your knowledge, rather than asking you to re-sit the same exam that you passed to earn your credential.
Recertification Process
The recertification pathway is available to current DCPro credential holders with less than 12 months of remaining validity for their credential. Once you have purchased the recertification pathway for your credential (DCT, DCP, DCS), you will be given access to our e-learning library to complete the required number of hours from the modules of most interest to you, ensuring to complete the required number of recertification hours prior to your credential expiration date.
After you have successfully completed the required hours for your recertification pathway, you will receive an updated digital badge and social certificate, and will remain credentialed for an additional 2 years.
What are digital badges and social certificates?
Learn More about our Recertification Pathways