Telespazio has deployed OneWeb terminals at its facility in Toulouse, France.
The Thales-Leonardo joint venture this week announced it has deployed a number of terminals at its premises as a product demonstration. Telespazio's French operations are based in Toulouse.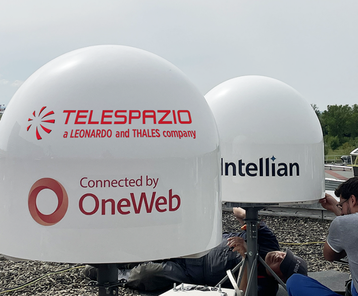 "This is the beginning of a new adventure, where Telespazio's expertise France combined with this new system based on OneWeb's LEO (low earth orbit) satellite constellation, will give birth to new high-performance telecommunications services," the company said on LinkedIn.
"We are excited to see high-throughput user terminals arriving and being installed by our partner, Telespazio France," OneWeb added.
OneWeb and Telespazio signed a Distribution Partnership Agreement to deliver the former's satellite broadband services across Europe in February.
"We are extremely proud to be in partnership with Telespazio France, given their outstanding experience and track-record. We look forward to introducing services together in the coming year," Dylan Browne, head of government services, OneWeb said at the time.
Jean-Marc Gardin, Telespazio France CEO added: "We are really proud to partner with OneWeb. Moreover, we feel like we are taking an innovative new step in the area of satellite communication services. We believe that the relationship between humankind and space is essential to our life on Earth and that this partnership is fully in line with these values and this vision."
The two companies have also installed a OneWeb ground station at Telespazio's teleport in the Maricà area of Rio de Janeiro, Brazil.
The LEO satellite firm has previously signed distribution deals with Airbus, Peraton, Hughes, AT&T, BT, SoftBank, Rock Networks, MOL, Alaska Communications, Galaxy Broadband, Pacific Dataport, Neom, Vocus, Field Solutions Holdings (FSG), HCIPL, Marlink, Clarus Networks, Eclipse, Telstra, Kymeta Corp, Eutelsat, Speedcast, Kyndryl subsidiary ISM, and Tampnet.
OneWeb rival Starlink hasn't fared so well in France. The SpaceX subsidiary recently lost its authorization to use spectrum in the country after a legal challenge from two local rights groups. The company also withdrew plans to build two of three proposed satellite ground stations in France after resistance from local residents.