Hughes Network Systems this week announced it signed a distribution agreement with OneWeb to deliver managed LEO services to the US Department of Defense (DoD).
Hughes, through its parent company EchoStar, is an investor in OneWeb. It is also working with the company to develop antenna technology for OneWeb services and other components.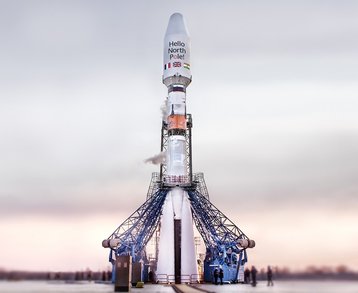 This is the latest deal announced between the two companies. Last year, Hughes and OneWeb announced the US Air Force as a customer for a connectivity pilot project in the Arctic, and together signed an enterprise-focused MoU around distribution in the US and India. OneWeb has also previously signed a distribution deal in India with a Hughes/Bharti Airtel joint venture, Hughes Communications India Private Ltd. (HCIPL).
"Our distribution agreement with OneWeb Technologies came together as we initiated LEO service for the U.S. AFRL in the Arctic region," said Rick Lober, VP & GM of Hughes Defense. "With a proven implementation in the harshest of environments and live LEO network capability, we stand ready to deploy diverse, integrated SATCOM solutions for DoD across all domains, platforms and theaters worldwide."
"Having Hughes as part of the LEO ecosystem is a testament to the value of our long-standing relationship, and Hughes with their inherent understanding of the OneWeb system, were a logical partner," added Ian Canning, chief operating officer, OneWeb Technologies. "OneWeb Technologies is excited to support Hughes in their delivery of new capabilities to the U.S. Government. The combined experience of Hughes and OneWeb Technologies has enabled the DoD to experience low latency, high speed internet in latitudes above 75 Degrees North for the first time."
The LEO satellite firm has previously signed distribution deals with Airbus, Peraton, AT&T, BT, SoftBank, Rock Networks, MOL, Alaska Communications, Galaxy Broadband, Pacific Dataport, Neom, Vocus, Field Solutions Holdings (FSG), HCIPL, Marlink, Clarus Networks, Eclipse, Telstra, Kymeta Corp, Eutelsat, Speedcast, Kyndryl subsidiary ISM, and Tampnet.
Hughes is also expanding its own broadband satellite capabilities with the Jupiter 3 Ultra-High Density Satellite, expected to launch in the second half of 2022.
Lynk lifts off
In other satellite news, Satellite base-station company Lynk (formerly UbiquitiLink) has deployed its Lynk Tower 1 satellite into space, its first spacecraft covered by an FCC license to operate a satellite direct-to-phone service.
"With the launch of Lynk Tower 1, Lynk is positioned to begin commercial service later this year and provides the world's first true satellite-direct-to-phone service to citizens across the globe," said Charles Miller, CEO and co-founder of Lynk. "For our flagship carrier partners, today's news means that we are only months away from helping them solve the world's '0G Problem' and enabling their subscribers to connect everywhere."
Lynk has now launched six satellites and offers technology that can connect its satellites directly to commercial smartphones without modification. Lynk Towers 2, 3, and 4 are under construction and will be launched later in 2022.
So far it has signed contracts with operators on seven island nations in the Pacific and Caribbean, including Telikom Limited in Papua New Guinea, Aliv in the Bahamas, and bmobile in the Solomon Islands, as well as Mongolia's Unitel and Telecel Centrafrique in the Central African Republic.