Amazon has filed plans to launch an additional 4,500 satellites into orbit.
First announced in 2019, the company aims to invest $10 billion in developing and launching a satellite network to provide broadband and backhaul services under the name Project Kuiper.
The company previously planned to build 3,236 such satellites, but this week it filed with the FCC for permission to deploy a total of 7,774 satellites for the project, more than doubling the size of the proposed constellation.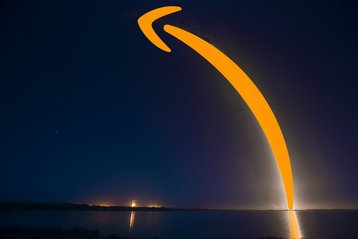 Through its Kuiper Systems LLC subsidiary, the company plans to operate a constellation of Low Earth Orbit broadband satellites to provide connectivity solutions. Amazon said the satellites "will serve households, hospitals, businesses, government agencies, and other organizations around the world, including in geographic areas where reliable broadband remains lacking."
Amazon is yet to actually launch any satellites, but recently filed plans to launch two test machines next year.
In July Amazon acquired Facebook's satellite team. Last month Verizon announced it had partnered with Amazon to use the Kuiper constellation for backhaul once live.
Last week Boeing was granted permission to launch nearly 150 LEO broadband satellites. The defense company first filed for permission to launch 3,000 in 2017.
This week also Astra Space Inc. request permission to launch 13,620 satellites for what it described as "communications services, environmental and natural resource applications, and national security missions."
Astra provides launch services for small satellites, and this would be its first move into developing and operating satellites. The first phase of deployment would see 40 satellites launched as a test phase, followed by 2,296 more in phase two, and finally the remaining tranche of 11,284 satellites.
SpaceNews notes this week was the FCC's deadline for processing V-band satellite systems. Hughes Network Systems, Inmarsat, and Telesat also filed applications for V-band satellite constellations, but none anywhere near as large as what Astra proposed.
Rival satellite firm SpaceX has deployed more than 1,700 satellites, and OneWeb has launched more than 350 satellites.
OneWeb has signed deals with Hughes and Peraton, AT&T, BT, SoftBank, Rock Networks, MOL, Alaska Communications, Galaxy Broadband, and Pacific Dataport. SpaceX's Starlink has so far only signed a backhaul deal with Japanese telco KDDI.