The FCC this week granted the defense company Boeing a license to construct, deploy, and operate a satellite constellation.
The company plans to provide broadband and communications services for consumer, business, and government customers both in the US and globally. Boeing first filed for permission for the satellite constellation in 2017.
"Advanced satellite broadband services have an important role to play in connecting hard-to serve communities," said FCC chairwoman Jessica Rosenworcel. "We are committed to a careful and detailed review of all such applications and I thank the International Bureau team for their work completing this first round of NGSO applications."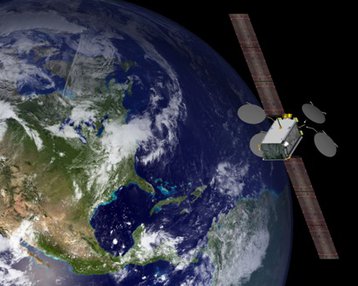 Boeing's satellite constellation, known in the FCC application as the V-band Constellation, will consist of 132 satellites at an altitude of 1056 kilometers (km) and 15 more at a higher altitude between approximately 27,355 and 44,221 km.
The constellation would initially provide broadband internet and communications services to the US, Puerto Rico and the US Virgin Islands before expanding to the rest of the world.
The FCC approved Boeing's application to use frequencies in portions of the V-band and Ka-band, but dismissed Boeing's request to operate inter-satellite links in certain frequency bands that are not allocated internationally for fixed satellites services in the ITU Radio Regulations.
Reuters reports that in 2019, Elon Musk's SpaceX urged the FCC to reject Boeing's plan saying it presented a "clear danger of harmful interference" to other systems, or "at a minimum impose appropriate conditions to ensure that Boeing's operations do not harm those of other" operators. The FCC notes Hughes, SES/O3b also raised concerns around Boeing's proposed frequency use.
Under the terms of the license, Boeing must launch half of the proposed satellites by November 2027, and launch the remainder by November 2030. The company reportedly asked for a slower rollout, with five launched by 2027, and the rest of the fleet going up over 12 years.
Reports of a Boeing broadband satellite constellation have been circulating since 2015, with Apple and Google rumoured to be interested customers. The company originally prpopsed to launch almost 3,000 satellites, but has since scaled back its plans.
Boeing acquired small satellite specialist Millennium Space Systems in 2018 to improve its capabilities in space.