DataBank is to expand its Las Vegas data center in Nevada.
The DigitalBridge-owned colocation firm this week announced the expansion of its LAS1 facility. Located at 7185 Pollock Drive and previously part of zColo, it is the company's only facility in the city.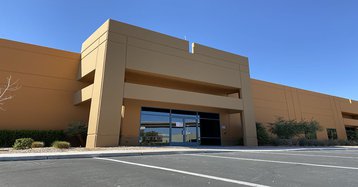 The expansion will add 10,000 square feet (929 sqm) of data center space, bringing the total capacity of the site to nearly 30,000 sq ft (2,800 sqm). The expansion will more than double the site's capacity from 1.4MW to 3MW.
"This project is the result of increased demand from our current customer base for greater data center infrastructure in the area," said DataBank vice president of construction, Toni Qorri. "Built out, this expansion will maximize our current footprint in the local market. We're proud to play an integral role in Las Vegas' business and technology development
zColo acquired the facility in 2012 when it took over MarquisNet's data-center business. DataBank acquired zColo from Zayo in 2020.
2022 has seen DataBank acquire a data center it was previously leasing outside Denver, Colorado, and acquire four data centers in Houston, Texas, from CyrusOne in a now-closed deal for $670 million.
Last year DataBank went on an expansion spree after raising around $1 billion in secure notes across two raises, announcing plans to add more than 120,000 sq ft (11,000 sqm) and 15MW of capacity to existing locations. It announced expansions to existing data centers in Atlanta, Georgia; Pittsburgh, Pennsylvania; Indianapolis, Indiana; Kansas City, Kansas; twice in Salt Lake City, Utah; and twice in Plano, Texas.
As well as opening a new facility in Minneapolis, Minnesota, 2021 also saw the company acquire a warehouse in Denver to convert into a data center, break ground on another facility in Utah, acquire a former Verizon data center in Orangeburg, New York, and announce plans for a new data center in Virginia.
More in Colocation & Wholesale