DataBank has acquired a data center it was previously leasing outside Denver, Colorado, and aims to create a new campus there.
The company this week announced it has purchased the building and land at 6900 South Peoria Street in Centennial, which houses its DEN2 data center. Terms of the deal weren't disclosed.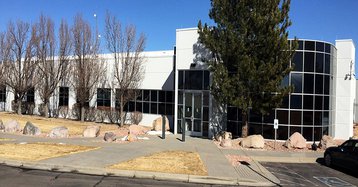 The company said the acquisition allows it to consolidate the property with the adjacent land and building it had recently acquired at 6961 South Quentin Street, which will be the future home of DEN5, DataBank's 5th facility in Denver.
First announced last year, DataBank is currently converting the light industrial facility at 6961 S. Quentin Street, into the DEN5 data center, which is expected to provide 75,000 square feet (7,000 sq m) of raised flooring and 15MW of capacity across a total 108,000 sq ft (10,000 sq m).
In its first phase, it will feature one data hall of 30,000 raised square feet (2,700 sq m) and 6MW of power. The facility, formerly a Jeppesen warehouse, is adjacent to DataBank's existing DEN2 data center, which has been in operation since 2011.
The 4MW, 40,000 sq ft DEN2 was previously a Latisys facility which Zayo took over as part of the company's $675 million acquisition in 2015; DataBank acquired Zayo's zColo in 2020.
By combining the two properties, DataBank will create a new 11-acre "Centennial Campus" featuring two data centers that collectively provide over 115,000 square feet of raised floor and more than 20MW of capacity.
"By purchasing the building and land at DEN2, DataBank furthers its strategy of owning and controlling the real estate beneath its data centers and accelerates the company's pace to bring online new capacity," the company said.
"DataBank's investment in this property aligns with our strategy of owning the largest Edge data center footprint in the US," said Raul K. Martynek, DataBank's CEO. "By creating this campus, DataBank is responding to Denver's need for colocation, connectivity, and cloud services, and solidifies our status as a prime location for mission-critical workloads serving the Denver metropolitan area."
Wick Phillips, LLP served as legal advisor to DataBank in connection with the transaction.
The news follows a busy 2021 and early activity in 2022 for the company. The firm raised around $1 billion in secure notes across two raises and embarked on an upgrade and expansion spree. Since the $750 million March raise, DataBank announced plans to add more than 120,000 sq ft (11,000 sqm) and 15MW of capacity to seven existing locations.
The company has been expanding its portfolio with new locations. A new facility in Minneapolis, Minnesota opened in November. It also acquired a warehouse in Denver to convert into a data center, broke ground on another facility in Utah, acquired a former Verizon data center in Orangeburg, New York, and announced a new data center in Virginia.
Last month the company acquired four data centers in the Houston, Texas, metro area from CyrusOne for $670 million.