DataBank has acquired a plot of land in Orangeburg, New York, on which it plans to build a new hyperscale data center.
The Dallas-based firm said this week it had acquired 34 acres in Orangeburg that will house the company's fifth facility in the New York area. Terms of the deal or plot location weren't disclosed.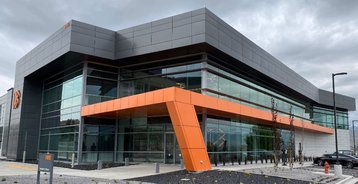 DataBank said it plans to construct a new 200,000 square foot (18,500 sqm) data center with 150,000 sq ft (14,000 sqm) of raised flooring, offering 30MW of capacity via five 6MW data halls. It didn't provide timelines for construction.
"The investment in this new campus responds to the New York City metro area's need for colocation, connectivity, and cloud services, solidifying its status as a prime location for enterprise-class data centers," said Raul K. Martynek, DataBank CEO. "With this acquisition, DataBank will bring to the nation's largest market both high-value IT operations jobs and the reliable IT infrastructure our customers need to create a limitless digital future for their business."
The plot includes a utility-owned substation capable of providing up to 45MW. The company noted there is room on the campus to add future expansion facilities, including an additional substation.
DataBank currently has two data centers in downtown New York City as well as facilities in nearby Newark and Piscataway, New Jersey.
DataBank has been on an upgrade spree since it recently raised more than $750 million in secure revenue notes, adding more than 70,000 sq ft (6,500 sqm) and 10MW of capacity to its locations.
Since the raise, the company has announced expansions to existing data centers in Texas; Pittsburgh, Pennsylvania; twice in Salt Lake City, Utah; and Indianapolis, Indiana. It has also acquired a warehouse in Denver to convert into a data center and broken ground on another facility in Utah.
Update: The Rockland County Business Journal has confirmed the site DataBank acquired is the former Verizon data center in the area recently sold by SKAE Group.
SKAE sold the 225,000 square foot (20,900 sqm) facility, located at 2000 Corporate Drive, to an apparent subsidiary of DataBank called 2000 Corporate Drive LLC, for $23 million. SKAE acquired the facility in 2018 in a sale-leaseback deal with Verizon for a reported $18.2 million.
More in Construction & Site Selection