US colocation provider DataBank has completed an offering of up to $757.89 million Secured Data Center Revenue Notes, giving it the backing to continue on an acquisition spree.
The company's first securitization offering raised more than the company hoped to raise according to a 12 March announcement. In February DataBank, owned by Colony Capital's Digital Colony fund, completed the acquisition of zColo, adding 45 facilities to its previous portfolio of 20 data centers. zColo was previously the data center arm of network company Zayo Group.
For breaking data center news, features, and opinions, subscribe to DCD's newsletter
Take it to the DataBank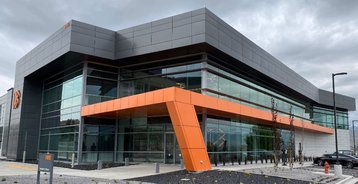 The new notes will reduce DataBank's financing costs by more than 50 percent, by securitizing and refinancing earlier loans, according to the company's earlier release. The better rates are locked in for five years.
The effect will be to add more than $200 million in cash which DataBank can use for more acquisition or building, providing what it describes as a "powerful launchpad from which the company can initiate future transactions."
Kevin Ooley, President and CFO of DataBank said: "For DataBank, and the industry, this represents a significant milestone. It provides the structure and flexibility needed to meet the long-term growth and expansion in our colocation, interconnect, and cloud platforms. And, as the first-ever securitization of a multi-tenant, enterprise-focused data center, it favorably compares DataBank's model to that of hyperscale data center operators who have been the only operators to previously conduct this kind securitization."
DataBank now has 65 data centers in 29 metro markets and 20 major interconnect locations.
Like DC Blox and DartPoints, DataBank sees itself as an Edge player, operating in smaller cities in the US - as well as with two data centers in Europe.
Tom Yanagi, Managing Director of DataBank's majority backer Digital Colony, said: "The $200 million of added liquidity and reduction in borrowing costs by more than 50 percent drives substantial shareholder value to DataBank shareholders, as we also facilitate the growth of customer edge workloads."
While DataBank's announcement promised $658 million of securitized notes, Global Legal Chronicle reports a total of $757.89 Million in Secured Data Center Revenue Notes, consisting of up to $100 million of Series 2021-1 Class A-1 Secured Data Center Revenue Variable Funding Notes, $553.6 million of Series 2021-1 Class A-2 Secured Data Center Revenue Term Notes, $44.54 million of Series 2021-1 Class B Secured Data Center Revenue Term Notes and $59.75 million of Series 2021-1 Class C Secured Data Center Revenue Term Notes.
DataBank provides highly scalable, customizable data center solutions, including colocation, network and connectivity services and managed and cloud services in support of enterprise technology companies, network and cloud service providers, and other internet and media companies.