DataBank has fully built out its SLC5 data center in Salt Lake City, Utah.
The company has opened the fourth and fifth of five data halls at the SLC5 facility at its Granite Point North campus in Bluffdale, each providing 10,000 square feet (920 sqm)of raised floor and 2MW.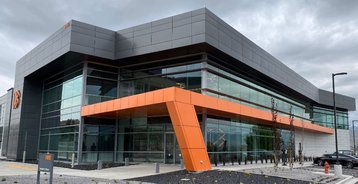 Capacity upgrade
The expansion takes SLC5 to a total of 50,000 sq ft (4,640 sq m) of raised flooring and 10MW of critical IT load. The 23-acre campus includes DataBank's own private 66MW N+1 power substation.
"The completion of the five data halls is reflective of the regional embrace of technology and of unrelenting customer demand for colocation, connectivity, and cloud services," said Raul K. Martynek, DataBank's CEO. "All of this solidifies Salt Lake City's status as a prime location for enterprise-class data centers. With all five data halls at SLC5 open and expected to fill quickly, we've already broken ground on SLC6, our next facility on the Granite Point campus."
DataBank opened SLC5 in July 2020 and opened the data center's third hall in May 2021. The company has already broken ground on SLC6 on the same campus, and in May it revealed intentions to build a seventh facility in the city.
DataBank has been on an upgrade spree since it recently raised more than $750 million in secure revenue notes, adding more than 70,000 sq ft (6,500 sqm) and 10MW of capacity to its locations.
Since the raise, the company has announced expansions to existing data centers in Texas; Pittsburgh, Pennsylvania; Salt Lake City, Utah; and Indianapolis, Indiana. It has also acquired a warehouse in Denver to convert into a data center.
More in Construction & Site Selection