DataBank is to build a data center in Ashburn, Northern Virginia.
The company announced this week it is breaking ground on a 200,000 sq ft (18,600 sqm) facility, known as IAD3. The new data center will be built on the DataBank-owned land adjacent to its current Ashburn site in Loudoun County.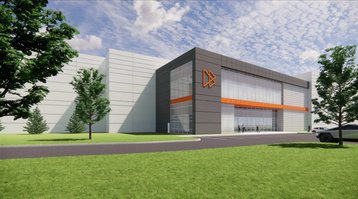 IAD3 will initially offer 4MW of capacity and have the ability to deliver up to 40MW. The facility will be ready for service in Q1 2023.
"DataBank is investing extensively across our portfolio nationwide, and IAD3 represents a tremendous opportunity for our clients to take advantage of Ashburn's location and proximity to 70 percent of the world's Internet traffic. This Ashburn data center more than doubles our colocation footprint in Loudoun County, providing a high-quality colocation solution for cloud, content, technology, and Fortune 500 customers," said Raul Martynek, CEO of DataBank.
DataBank has two existing Virginia facilities in Ashburn and McClean with a total of 22.5 MW of power across 111,000 sq ft (10,300 sqm) of raised floor data center space. The company will host a groundbreaking event for the new data center on December 1, 2021.
2021 has seen the company raise around $1 billion in secure notes across two raises and embark on an upgrade and expansion spree. Since the $750 million March raise, DataBank has announced plans to add more than 85,000 sq ft (8,000 sqm) and 12MW of capacity to its existing locations.
This year the company has announced expansions to existing data centers in Plano, Texas; Pittsburgh, Pennsylvania; twice in Salt Lake City, Utah; Kansas City, Kansas; and Indianapolis, Indiana.
The company he also been expanding its portfolio with new locations. A new facility in Minneapolis, Minnesota, is due to open this week. It has also acquired a warehouse in Denver to convert into a data center, broken ground on another facility in Utah, and acquired a former Verizon data center in Orangeburg, New York.
More in Construction & Site Selection
More in Colocation & Wholesale