The city of Chandler in Phoenix, Arizona, is considering introducing new restrictions on further data center development in the area.
The city, in Maricopa County, is already home to a number of data center companies largely clustered in the Price Corridor. But AZ Central reports that the City Council this month reviewed a staff proposal to restrict building new data centers, except on a handful of sites along Price Road already zoned for that use.
The proposed code amendment would prohibit developers from building data centers anywhere in the city under existing city zoning if it's the primary use of the space. Offices with small on-site data centers would be excluded from the restrictions.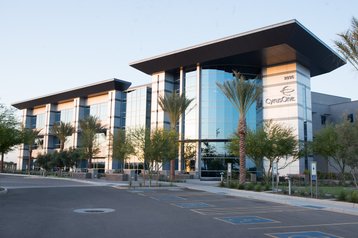 City officials say data centers aren't sustainable, don't generate quality jobs, and produce disturbing levels of noise to nearby residents.
There are five sites in the city that are zoned for data centers all along Price Road between Germann Road and Mockingbird Drive. Two are currently vacant but one site is going through the city building process for a planned facility from Aligned. The city wouldn't be able to prohibit new data centers from being built on the two vacant sites or existing centers from expanding their facilities even if the amendment is approved.
Beyond those five zones, the proposals wouldn't totally prevent developers from building new facilities in the city, but they would face a lengthier and more rigorous approval process that would include getting council buy-in.
Developers would need to seek a zoning change through planned area development (PAD), which goes through a public hearing process and must be approved by council, in order to build a data center outside of the previously zoned areas.
Amendment proposals would require a noise study before and after data center construction or expansion and require sound mitigation for mechanical equipment. Developers would be required to notify residents who live within a half-mile of the data center, hold neighborhood meetings, and provide a neighborhood liaison.
"Over time we've realized it's a drain on water and energy and as Price Corridor has evolved we've realized data centers aren't our target," Vice Mayor Mark Stewart said.
"The data centers that are there now will remain and anything that's zoned for data centers in the past will remain. We can't change that," Stewart told ABC. "10-15 years ago data centers made sense for Chandler. Today they don't. There's a better opportunity for us. We want to target job creators and we want to target companies that will support Intel and Northrop Grumman."
Kevin Mayo, Chandler's planning administrator added that data centers are inconsistent with the city's priorities around sustainable building practices and water conservation. He also noted the noise of the cooling systems can bother local residents but the city's noise ordinance is vague and building codes don't require developers to provide sound mitigation in construction.
"It's like your house AC system times a million noise-wise," he said.
City staff are working to craft formal language and public outreach is expected to start in the spring with a council vote on the amendment to follow.
CyrusOne, Digital Realty, INAP, and H5 Data Centers have facilities in the city. In 2018, CyrusOne was forced to take action at its Chandler location to mitigate the noise from operations following complaints.
Beyond Chandler, Arizona is one of the largest data center markets in the US and Phoenix is home to a large number of data centers including Aligned, Vantage, Expedient, NTT, Microsoft, EdgeConneX, Iron Mountain, Stream Data Centers, Stack, Compass, PayPal, and others, as well as AWS Local and Wavelength zones.
Officials in Avondale, in southwest Phoenix, recently pushed back against a proposal for a technology park and data center over water concerns.
Facebook's Mesa facility raised numerous concerns amongst officials and residents around its water use but ultimately gained authorization.
More in Construction & Site Selection