Stream Data Centers has launched a 418,000 sq ft (38,800 sq m) facility in Goodyear, Arizona.
Located in Goodyear, a suburb of Phoenix, the hyperscale data center called Phoenix I is the first of five phases planned for Stream's new 157-acre campus in the West Valley.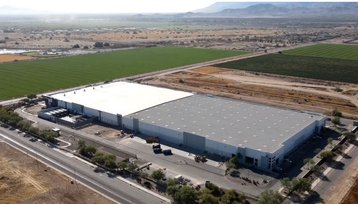 Five more upstream
After the phases are complete, the Goodyear campus will consist of two million sq ft (185,000 sq m) across five buildings. The campus has access to an on-site substation providing 350MW from the Arizona Public Service Electric Company (APS). Almost half of APS's energy is sourced from renewables.
Phoenix I will eventually support 40MW of critical load, but right now offers 4.5MW. At full build, the entire campus will support up to 200MW of critical load.
The campus benefits from Arizona's data center tax exemptions. The Arizona State Computer Data Center Program allows exemptions to be applied to a myriad of items from monitoring software to servers; this ultimately reduces costs for users and customers. The location of the campus is also notable for its business-friendly environment, close to local amenities and Phoenix-area airports.
Rob Kennedy, Stream's co-managing partner, said: "Over our 21 years serving global enterprise and hyperscale providers, we've seen increasing focus on deploying in markets with smart tax incentives. On a large deployment, our customers can spend several hundred million dollars on IT equipment and infrastructure. Data center-friendly markets like Goodyear give our customers access to favorable tax incentives, highly skilled workforces, and stable operating environments where they can deploy with confidence."
Chris Kincaid, SVP of construction at Stream, said: "Once again, I'm proud of the great work completed by our internal and external teams, including our construction partners and supply chain providers, who overcame the challenges from the global pandemic to deliver a world-class facility in Goodyear. Additionally, working alongside the City of Goodyear was a great experience, as their ongoing partnership allowed us to complete the first phase of the project on schedule during an otherwise challenging year."