Polish software firm Comarch has announced plans to build its first data center in the US.
The company announced it will build a data center in the city of Mesa, Arizona. Construction is due to begin in June this year and scheduled to be operational in mid-2022.
The 32,000 sq ft (3,000 sqm) facility will be built on a three-acre site at Ellsworth Road and Prairie Avenue in the east of the city. The company said it will invest about $22 million in the project with The Weitz Company as the general contractor.
The new facility will host infrastructure and applications, support and maintenance, IT project delivery, business development, consulting services, and the delivery of mission-critical IT systems.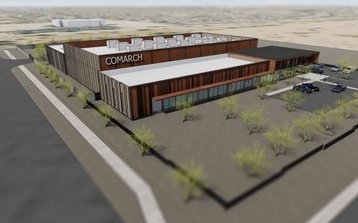 "We chose Mesa due to it progressing as an up-and-coming technology region, reasonable energy prices, existing infrastructure, lack of natural disasters, and business business-friendly opt-in processes which reduced timelines for go-live," said Louis Rossi, Comarch's director of business development for North America.
"The Mesa Office of Economic Development team was also a positive factor as they created a support system to make it easier to navigate an otherwise complicated endeavor for an international company."
Founded in 1993, Krakow-based Comarch provides software and integration services including operations, CRM, ERP, and cybersecurity. It also offers a number of cloud solutions and services.
Comarch currently provides data center services for American clients from rented spaces in Chicago and Columbus, as well as in Montreal and Toronto. When the US facility is launched, all the company's North American infrastructure will be moved to Mesa.
The company has its own server rooms in Poland in Krakow and Warsaw, as well as in France and Germany.
"We're thrilled to welcome Comarch's first US facility to Mesa," said Mesa Mayor John Giles. "Their renowned systems and IT solutions join the growing trend of technology-based companies finding opportunity and a talented workforce in our city."