Microsoft has launched a new Azure cloud data center region in Arizona.
As with other regions, West US 3 is made up of at least three separate facilities known as Availability Zones. The region has data centers located in the cities of Goodyear and El Mirage, and outside Phoenix.
The company said it picked Arizona for its abundant 'solar energy, highly skilled workforce, proximity to our customers, and availability of land.' The state is also known for its favorable tax exemptions on data centers.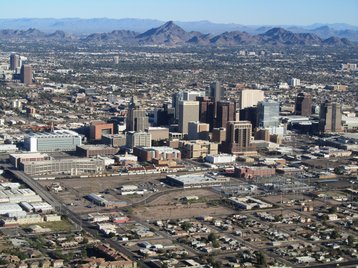 "Technology continues to be an area of growth for Goodyear, and Microsoft's data centers represent a significant investment in our city. We are pleased that Arizona government and businesses, as well as global customers, can select this new Microsoft data center region to run their business-critical operations," said Georgia Lord, mayor of the City of Goodyear
"Microsoft's data center investment creates new, local jobs to support operations and development and provides opportunities for businesses to innovate with Microsoft cloud services in our City, across Arizona, and throughout the world," added City of El Mirage mayor Alexis Hermosillo.
The company said in order to meet its sustainability goals, Microsoft partnered with Longroad Energy on its 150MW Sun Streams 2 photovoltaic solar power plant in Maricopa County, Arizona, and will use Renewable Energy Certificates (RECs) to offset the energy use of its data centers in the state.
The company also said the new facilities will use adiabatic cooling – uses outside air instead of water for cooling – when temperatures are below 85°F (29.4°C). Above 85 degrees, an evaporative cooling system will be used. It says it will be able to use adiabatic cooling for around half the year.
Microsoft has also announced its involvement in various water conservation efforts. The company is partnering with Gila River Water Storage, LLC to replenish groundwater levels in the Phoenix Active Management Area, with long-term storage credits dedicated to the cities of Goodyear and El Mirage to balance a portion of Microsoft's future water use.