A number of Microsoft employees slept at its data centers during the height of the pandemic.
The staff made the decision to avoid lockdown travel issues and government roadblocks as nations tried to get Covid-19 under control.
Microsoft did not immediately respond to questions about the number of employees that stayed at the data centers, nor did they detail which locations the staff stayed at.
FEATURE: How data centers survived the Texas storm
A "lights out, please" data center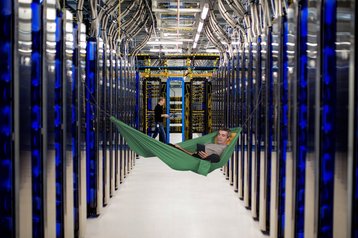 "I heard amazing stories about people actually sleeping in data centers," Kristen Roby Dimlow, corporate vice president for total rewards, performance, and human resources business insights at Microsoft, said during a conversation with Morgan Stanley analysts, per CNBC.
"In certain countries there was huge lockdown, and so we would have our own employees choose to sleep in the data center because they were worried they'd get stuck at a roadblock, trying to go home," she said.
CNBC appeared confused as to where the staff slept, apparently envisioning engineers curled up alongside racks. "Generally data centers are not places where people sleep," the publication said. "Aisles can be hot from air coming off of servers, and cold because of air conditioning to prevent machines from overheating."
In fact, large data centers are built with exactly this eventuality in mind, and have some accommodation facilities, food, and often showers.
In particular, facilities built in areas susceptible to natural disasters are designed for extended stays.
When Storm Uri battered Texas earlier this year, data center employees prepared to hunker down at their facilities for as long as it took.
"We have a couple of showers on site, and I think somebody came in to do dishes at one point," Texas Advanced Computing Center executive director Dan Stazione told DCD.
Walsh said that Microsoft also provided transportation for those that did not want to take the bus, and paid for some hotel stays.