Microsoft's latest quarterly earnings beat Wall Street expectations, with $35 billion in revenue and $10.8 billion in net income.
The Covid-19 pandemic that has roiled markets had a "minimal net impact" on the tech giant, with sales mostly unaffected by the crisis. Demand for cloud services, meanwhile, shot up as people turned to working and relaxing online amid nationwide lockdowns.
Good news - for some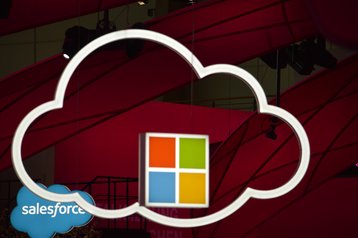 Microsoft's commercial cloud business - which includes Azure, Office 365, and other services - hit $13.3 billion in revenue for the quarter, up 39 percent year over year. Revenue at Azure specifically jumped 59 percent, but it is unclear what that amounts to in revenue.
"We delivered double-digit top line and bottom line growth once again this quarter, driven by the strength of our commercial cloud," CEO Satya Nadella said in an earnings call (via SeekingAlpha).
"As Covid-19 impacts every aspect of our work and life, we have seen two years' worth of digital transformation in two months. From remote teamwork and learning to sales and customer service to critical cloud infrastructure and security, we are working alongside customers every day to help them stay open for business in a world of remote everything.
"There is both immediate surge demand and systemic structural changes across all of our solution areas that will define the way we live and work going forward. Our diverse portfolio, durable business models and differentiated technology stack across the cloud and the edge position us well for what's ahead."
Microsoft Teams, the company's shared workspace platform, was highlighted as a breakout success: "We saw more than 200 million meeting participants in a single day this month, generating more than 4.1 billion meeting minutes," Nadella said.
To meet this demand the company (which experienced a few outages nonetheless) has invested heavily in more server capacity, CFO Amy Hood said. Capex for the quarter was $3.9bn, but that "was certainly short - in particular, on the server side - in terms of getting what we need into the data centers," Hood said. "Things got a lot better in March, and they're continuing to get better. And so I feel good that we'll have a healthy capex number in [the next quarter] but more importantly, continue to get ahead of the surge [in] demand and also there's the continuing demand growth we're seeing across the properties."
Hood added that, with "supply chain constraints easing, we expect a material sequential increase in our capital expenditures to support growing usage and demand for our cloud services."